Sudha Arunachalam, PhD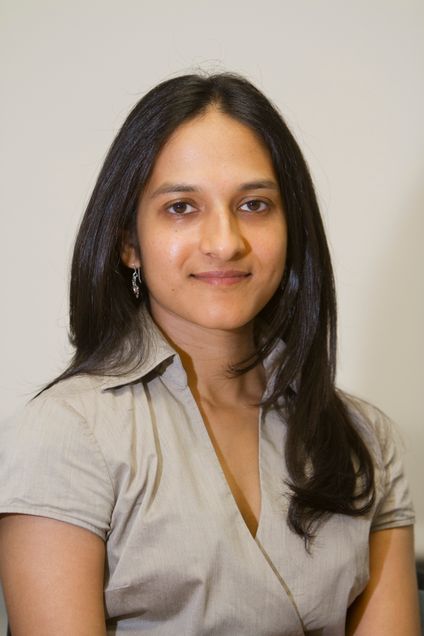 Title

Assistant Professor
Director, BU Child Language Lab

Email

Phone

617-353-7491

Education

Ph.D., Linguistics, University of Pennsylvania (Philadelphia, PA), 2007
M.A., Psychology, University of Pennsylvania (Philadelphia, PA), 2004
B.A., Linguistics/Psychology, University of Southern California (Los Angeles, CA), 2001

Website or Lab

CV
Scholarly Interests
Early language development, Language processing, Lexical and syntactic representation
Selected Presentations
Non-social teaching for non-social learning: A new approach to teaching vocabulary to children with ASD; Symposium on Research in Child Language Disorders; Madison, WI; June, 2013 (with E McDermott, K Reilly)
Measuring receptive verb vocabulary in children with ASD; Symposium on Research in Child Language Disorders; Madison, WI; June, 2013
The role of structural information in eliciting the 'agent' meaning with -er nominals: Experimental evidence; JeNom 5: Eventualities beyond verbs, Workshop on Nominalizations; Barcelona, Spain; June, 2013 (with I Roy, S Colonna, B Copley)
Watching children learn language: Eye-tracking for developmental linguistics; EyeTrackBehavior 2013; Boston, MA; April, 2013 Understanding conjoined-subject intransitives: Two-year-olds perform like adults; Society for Research in Child Develo Event completion requirements of Hindi and English perfectives; UMass Workshop on South Asian Syntax and Semantics; Amherst, MA; March, 2011
Verb learning in English- and Mandarin-acquiring 24-month-olds; Boston University Conference on Language Development; Boston, MA; November, 2010 (with E Leddon, X Fu, H Gong, L Wang, SR Waxman)
Specifying the role of linguistic information in verb learning; Boston University Conference on Language Development; Boston, MA; November, 2010 (with SR Waxman)
Projectionism, Non-Projectionism and the acquisition of argument structure; Verb Concepts: Cognitive Science Perspectives on Verb Representations and Processing; Montreal, Canada; October, 2008
Selected Publications
Arunachalam S, Leddon E, Song H, Lee Y, Waxman SR. Doing more with less: Verb learning in Korean-acquiring 24-month-olds. Language Acquisition: A Journal of Developmental Linguistics. In press.
Waxman SR, Fu X, Arunachalam S, Leddon E, Geraghty K, Song H. Nouns before verbs? Fresh insights and new cross-linguistic evidence. In press.
Arunachalam S. Experimental methods for linguists. Language and Linguistics Compass. 2013;7:221-232.
Arunachalam S, Escovar E, Hansen M, Waxman SR. Out of sight, but not out of mind: 21-month-olds use syntactic information to learn verbs even in the absence of a corresponding event. Language and Cognitive Processing. 2013;27:417-425.
Arunachalam S, Kothari A. An experimental study of Hindi and English perfective interpretation. Journal of South Asian Linguistics. 2012;4:27-42.
Arunachalam S, Waxman SR. Grammatical form and semantic context in verb learning. Language Learning and Development. 2011;7:169-184.
Arunachalam S, Waxman SR. Meaning from syntax: Evidence from 2-year-olds. Cognition. 2010;114:442-446.
Arunachalam S, Waxman SR. Language and conceptual development. Wiley Interdisciplinary Reviews: Cognitive Science. 2010;1:548-558.
Almor A, Aronoff JM, MacDonald MC, Gonnerman LM, Kempler D, Hintiryan H, Hayes UL, Arunachalam S, Andersen ES. A common mechanism in verb and noun naming deficits in Alzheimer's patients. Brain and Language. 2009;111:8-19.
Almor A, Arunachalam S, Strickland B. When the creampuff beat the boxer: Cost and function in reading metaphoric reference. Metaphor and Symbol. 2007;22:169-193.
Aronoff JM, Gonnerman LM, Almor A, Arunachalam S, Kempler D, Andersen ES. Information content versus relational knowledge: Semantic deficits in patients with Alzheimer's disease. 2005;44:21-35.