Visit Us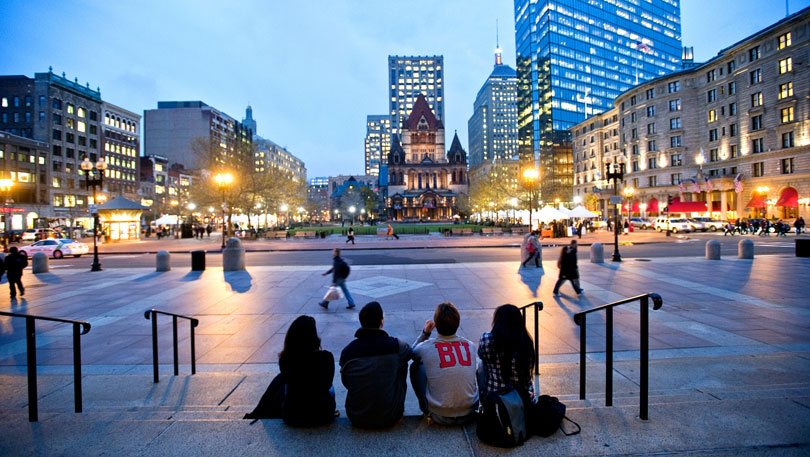 Choosing a college or university—and a particular program of study—is a personal decision as well as an academic one. Once you know a school has the right credentials and courses, how do you know it's the right "fit" for you?
There's one sure way to find out: schedule a visit. We invite you to come to Boston University, meet our students and chat with our faculty members. You can ask questions about programs that interest you. See some of BU's world-class research facilities. Learn about Sargent College's advanced clinical education centers and labs. Find out what we're working on right now.
You can also get a feel for BU campus life. Discover one of the best fringe benefits of attending BU: our six-acre Fitness & Recreation Center. Stroll down lively Commonwealth Avenue. Step into a student residence hall and check out Sargent House, our own specialty residence. Sample the myriad options at the George Sherman Union food court. And be sure to try an entree or snack from Sargent Choice, the exclusive line of healthy dining options created by Sargent College dietitians and BU chefs. (We hate to brag, but they're incredible.)
We offer lots of ways to get acquainted with BU through the Undergraduate Admissions office, starting with general information sessions and campus tours. Visit the BU Undergraduate Admissions website to learn more and schedule your visit.
To include Sargent College activities in your visit, you should also contact us directly. Want to meet with a representative of a specific program? Tour Sargent College facilities? We'll be glad to arrange personal information sessions with students, staff, academic advisors, or faculty members. Contact our Academic Services Center at 617-353-2713.