PhD in Speech, Language and Hearing Sciences

About the Program
The Sargent College doctoral program is designed for students who want to take leadership roles as independent researchers and scholars in speech, language or hearing science.
Note: individuals without a master's degree are eligible to apply.
We prepare our students to excel through a combination of advanced academic work, extensive lab experiences, and mentored, original research. With the resources of Boston University and the surrounding area, doctoral students have the opportunity to take courses in a wide variety of departments across Boston University (e.g. psychology, linguistics, graduate medical sciences, education, engineering and neuroscience), and to benefit from other university offerings in the area. The program is designed to be individualized and to combine academic work with multiple research experiences.
In fact, your entire program—not just your research projects—will be original, created by you and for you with the help of your advisor and mentor. Because of the enormous range of opportunities open to you at a large liberal arts university and research institution, the specific path you choose will be custom-tailored.
Extensive Academic Resources
The chance to individualize your program begins with the many academic options at Boston University. For example, besides classes in the Department of Speech, Language & Hearing Sciences, you can take courses in the University's other schools and colleges. You can pursue interests in psychology, linguistics, medicine, engineering, rehabilitation, education, or public health. Study the neurobiology of aging or autism. Take a course in brain-mapping, biomedical engineering, or health policy. Choose from dozens of offerings from the Graduate Program for Neuroscience (GPN), open to graduate students across BU. This University-wide interdisciplinary program is led by Director Shelley Russek and Associate Director Frank Guenther, a Sargent College professor and Director of BU's Speech Lab and Neural Prosthesis Lab. The GPN's mission is to provide an innovative and flexible environment for graduate study that merges a foundation in basic neuroscience with a clinical perspective. To learn more, visit the Graduate Program for Neuroscience website.
You can also take advantage of courses at other universities in the Boston area by cross-registering at Boston College, Brandeis University, and Tufts University.
A Strong Research Focus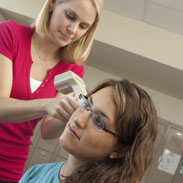 This program is an excellent research track for students who are interested in becoming academic researchers in speech, language & hearing sciences – including students who have previously earned clinical certification in speech-language pathology* or who want to pursue an academic or research career in audiology. Your opportunities for research involvement begin in the first year and may include lab rotations which you can schedule with your mentor. Research study options are available through dozens of seminar offerings at BU on both the Charles River and Medical Campuses. Interdisciplinary centers including the Center for Neuroscience and the Hearing Research Center sponsor seminar series. Learn more about our faculty's work in Special Edition Inside Sargent: Accomplishments in Speech, Language & Hearing Sciences.
In addition to the University's research activities, our location in a world-class medical and research hub gives our students access to projects at premiere research institutions like Massachusetts General Hospital and MIT.
*Students entering post-baccalaureate who are interested in obtaining clinical certification in speech-language pathology are eligible for the combined MS/PhD program, which includes clinical training.
Accreditation
Graduate employment rate: 100 percent
Program Completion Rate: More than 90 percent
Questions?
Contact Program Director Swathi Kiran, PhD, CCC-SLP at kirans@bu.edu or 617-358-5478.