Master of Science in Speech-Language Pathology (2-Year Program)
Click Here for Fall 2017 Information Session Dates.
If you wish to become a practicing speech-language pathologist and you have a bachelor's degree in any area of study, our master of science program is designed for you.
The Master of Science education program in Speech-Language Pathology at Boston University is accredited by the Council on Academic Accreditation in Audiology and Speech-Language Pathology (CAA) of the American Speech-Language-Hearing Association (ASHA), 2200 Research Boulevard #310, Rockville, Maryland 20850, 800-498-2071 or 301-296-5700.  The goal of the program is to prepare students to meet ASHA certification standards and MA state licensure requirements for entering clinical practice. The success of our graduates attests to the program's effectiveness: our three-year, first-time passing rate on the National Certification Board Examination is 100 percent.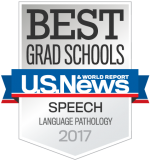 When you enroll in one of the country's top programs in speech-language pathology, you can expect to do much more than meet certification requirements. At Boston University's College of Health & Rehabilitation Sciences: Sargent College, your education will include a rare combination of clinical, academic, and research opportunities.

You'll gain broad clinical experience, on campus and off
Starting in your first semester, your clinical practicum courses will give you the broadest possible exposure to patients across the lifespan with communication disorders at all levels of severity. We place students in many settings, from early intervention to major medical centers and from schools to private practices. Our clinical faculty will work closely with you to select placements best suited to your interests and goals. By the time you complete the program, you'll be confident in your knowledge and skills in any practice situation.
This breadth of experience is possible at BU for two reasons. First, Sargent College operates its own clinical education centers right on campus. Our graduate students, supervised by faculty practitioners, conduct individual and group treatment sessions for members of the Boston community at the Academic Speech, Language & Hearing Center. Specialized clinics and labs, including the Aphasia Resource Center, Intensive Preschool Language Program, Specialty Clinics in Fluency and Voice, Child Language Laboratory, and Sensorimotor Rehabilitation Engineering Lab provide greater depth of experience with specific disorders. Learn more about our faculty's work in Sargent's research labs and centers in Special Edition Inside Sargent: Accomplishments in Speech, Language & Hearing Sciences.
Secondly, our location in a world-class medical hub gives us access to premiere institutions like Boston Medical Center, Children's Hospital Boston, and Massachusetts General Hospital for student internships—a critical component of your professional education at Sargent College. As a result, our students learn from master clinicians at the city's most respected medical facilities.
A small program has big advantages
Sargent College's graduate program is the smallest in Boston. That means friendly classes, excellent discussions (including clinical discussion groups with as few as three students), and personal attention from some of the best professors and practitioners in the field.
There are countless opportunities at a large university
Besides the academic resources and research opportunities of Boston University, you can share the experience of life on an energetic, urban campus. And take advantage of all the history, culture, and arts that surround you in one of America's most exciting cities.
After you complete the program, BU's reputation will continue to work for you. The employment rate for graduates seeking jobs is 100 percent within six months. Those who choose to continue their studies are highly successful in gaining admission to top doctoral and professional programs.
The MS program welcomes students with diverse educational backgrounds from all over the world. We invite you to read more about the program, career options, and experiences of our students.
Student Outcome Data
Program Completion Rate
Academic Year
Completing on Time

Completing Later than on Time
Number Not Completing

2016/2017
25
1
0
2015/2016
38
3
0
2014/2015
40
0
0
3-year Average
95.37%
PRAXIS Examination Pass Rate
Academic Year
Number of Test-takers Taking the Exam
Number of Test-takers Passed
2016/2017
23
23
2015/2016
34
34
2014/2015
38
38
3-year Average
100%
Employment Rate
Academic Year
# Employed

# Not Employed
2016/2017
28
0
2015/2016
39
1
2014/2015
37
2
3-year Average
97.34%