Student Life: Leading the Way
Boston University MSOT Students: Leading the Way
In addition to their academic work, Boston University MSOT students participate in extra-curricular activities, volunteer locally and abroad, and engage in leadership roles. The articles below are featured in our Fall 2014 InsideOT  department newsletter and highlight our exceptional students.
---
Occupational Therapy in Quito, Ecuador
Prof Ellen Cohn and six Boston University students (Vanessa Grijalba, Jonathan Hairell, Vicky Landar, Iris Mansour, Ann McCullough, and Amelia Pepe), along with faculty and students from St. Catherine University in Minnesota, traveled to Ecuador for two weeks this past June 2014. Students spent the mornings at a variety of sites, including clinics, schools, and community settings in Quito, Ecuador. They worked alongside occupational therapists, physical therapists, speech and language pathologists, learning about the unique and overlapping roles each of these professionals provide within their country. The group engaged in conversations with OT students at a University in Ecuador to share stories and to learn about cultural similarities and differences. They also traveled on weekends out of the city to rural towns, where they observed indigenous health care practices, and learned about the occupations of the people of Ecuador (such as weaving, music, and ecotourism). The students also traveled to a community in the Amazon where they learned about other indigenous cultural norms and health remedies. Through reflecting on experiences in Ecuador, the BU students gained a broader perspective of health care, an understanding of roles in the community, and an appreciation of the country's unique culture.
---
Occupational Therapy and Culture in Jaipur, India
A total of eleven MSOT-II students traveled to Jaipur, India this summer 2014 for a month long volunteer experience. DISHA is non-profit center for special education, serving children with diagnoses including cerebral palsy, autism, Down syndrome, intellectual disability, and ADHD. Each student lived and worked at DISHA for a month, with six students volunteering in July and five students volunteering in August. At DISHA, the students worked with an occupational therapist, physical therapists and teachers. The students utilized occupational therapy based interventions to promote play, social interaction, sensory integration, emotional regulation, and motor skills in the children at DISHA. In addition to volunteering with the children, the students learned about the field of occupational therapy in India. They saw occupational therapy in a large hospital, visited an occupational therapy college, and also toured Jaipur Foot, the largest prosthetic clinic in India.
---
Health Promotion: Ghana
This summer 2014, MSOT-II Kayla Pirri and Prof Sue Berger spent two weeks in Cape Coast, Ghana with approximately 20 students and one other professor from BU Sargent College. The trip was focused on health promotion efforts and was administrated by ProWorld, an organization that partners with local community service locations and coordinates volunteers. Students worked with various local organizations based on their interests. Kayla and other group members volunteered with HEPENS, an organization providing rural outreach to villages. Her group visited three rural communities and schools each week, educating the communities on various prevalent diseases and self-care activities such as hand washing and sexual health. They also provided a "traveling clinic" at all sites, where they took blood pressure, BMI, and provided health counseling. The trip incorporated other services activities including a beach clean-up, along with cultural activities for the students. Kayla was very grateful for her opportunity to experience life in another culture and get to learn about healthcare systems in Ghana. She was shocked by the fact that what may seem like common sense to us in America (i.e. brush your teeth three times per day with clean water) was not necessarily known to individuals in Ghana. As the only OT student, she saw the applicability of occupational therapy in this type of outreach work.
---
Open Style Lab
This summer 2014, Boston University students Ellie Mockler and Kira Bender, currently on fieldwork, collaborated with other student occupational therapists, engineers, and designers in a 10-week educational summer program at MIT called Open Style Lab to create clothing with and for individuals with disabilities. They worked with 8 clients with disabilities, including paraplegia, amputations and autism. Each student team was guided by mentors from both industry and academia, including Eileen Fisher, Rhode Island School of Design and Spaulding Rehabilitation in Boston. The results of the student projects included:
an alteration guide for people with arthritis, and a zipper pull aid that can be camouflaged as a necklace, belt or scarf (winner of the Eileen Fisher choice award).
a rain jacket with a lapflap for a wheelchair user that can be easily donned and doffed.
protective sleeves for caregivers of children with autism who are prone to biting.
---
Schweitzer Fellow: Alanna Wolf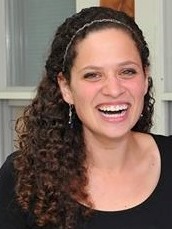 MSOT-II student Alanna Wolf is one of approximately 250 students nationwide, selected as Schweitzer fellows for the 2014/2015 academic year. Alanna will be promoting independent living at the Webster House, a clubhouse for adults with psychiatric disabilities residing in the Metro Boston area, by establishing a life skills program, in which topics such as food management, self-care, home safety, community mobility, and money management are addressed. Through participation in group and individual sessions, members will develop skills to confidently identify available resources and live safely in the community. Alanna hopes to improve each individual's quality of life through practical education, activities, and discussion, as well as by creating a network of support within the clubhouse.
---
Alumni Spotlight  Nicole Bazinet: OT in the NICU
Nicole Bazinet, a graduate of the Boston University MSOT program in 2009, works as an occupational therapist in the neonatal intensive care unit of The Golisano Children's Hospital of Southwest Florida. For Nicole, this position is a realization of a dream in the making since age 5 when she decided that she wanted to work with infants. Unaware of occupational therapy, Nicole originally studied early childhood special education (at the University of Maine Farmington). She learned about OT after working for a family with children who had special needs. Seeing the OT opportunities in the NICU, Nicole decided to return to school, specifically choosing BU for Dr. Elsie Vergara, a professor in the OT department at the time, renowned for her work in the NICU. After graduating from the MSOT program, Nicole worked in Early Intervention and specialized schools to acquire OT experience with children. When an opportunity to be trained in the NICU opened up in Fort Meyers, Florida, Nicole was quick to move south. She has now been working as a member of the interdisciplinary NICU team at The Golisano Children's Hospital for three and a half years. Nicole stressed the importance of educating yourself for students interested in working in the NICU, a setting that can be difficult to enter. She also recommended working with children in outpatient settings who were born premature in order to develop a long range perspective for clients in the NICU. Nicole loves her work with infants and their families and looks forward to continuing to learn and advance in her specialized setting!
Previous Newsletter Issues
Boston University MSOT Students: Leading the Way Spring 2014
Articles below were written by Boston University MSOT students and featured in the Spring 2014 issue of our department newsletter InsideOT .
---
Students and Professors Collaborate for TBI Systematic Review
Over the course of two semesters, Boston University faculty members Sue Berger and Jennifer Kaldenberg collaborated with two MSOT-II students,  Romeissa Selmane and Stephanie Carlo, to conduct a systematic review for AOTA to contribute to their series of evidence-based practice resources. While AOTA is currently conducting many systematic reviews in collaboration with practitioners, educators and students around the nation, this review focused on evidence to address occupational therapy interventions for visual and visual perceptual deficits in individuals with a traumatic brain injury.
A medical librarian with experience in completing systematic review searches conducted the initial evidence search and provided the team with a list of hundreds of potentially relevant articles. After reviewing titles and abstracts, 50 articles were analyzed in-depth, with 17 articles meeting the final inclusion criteria. Throughout this process, the team regularly communicated via e-mail and conference calls, and met bi-monthly to discuss articles, their relevance to the question and emerging themes, and to delegate tasks such as completing an evidence table and compiling a Critically Appraised Topic (CAT) of the interventions identified in the literature. This unique experience provided students with the opportunity to work closely with two faculty members, who served not only as mentors to the students but also regarded them as colleagues throughout the project. With research and clinical experience in the areas of brain injury and low vision, Sue and Jen aided in providing students with a deeper understanding of the effects of brain injury and the array of possible subsequent visual impairments. The project was, however, a learning process for the entire team, as many questions arose that required, at times, lengthy discussion. To address matters of uncertainty, the team frequently collaborated with the AOTA Director of Evidence-Based Practice and AOTA Consultant and Project Methodologist. This provided students with the opportunity to build connections with members of AOTA who are committed to contributing to the advancement of occupational therapy on the national level through research.
In addition to these collaborations, this project provided an additional avenue for students to hone the evidence-based practice skills already being cultivated through the OT curriculum. While in class students practice searching the evidence,  critically appraising  journal articles and synthesizing and summarizing the findings in a CAT, this opportunity provided a glimpse into what the process looks like in "real-life" and how these systematic  reviews are actually developed, used and accessed in practice. Through these experiences, this project has served to further contribute to Stephanie and Romeissa's professional development. They have been credited as authors on the CAT submitted to AOTA, and they will have the opportunity to facilitate discussion in relation to the evidence at a presentation of the review findings at the AOTA conference this  April!
---
MSOT Students to Run in Blindfold Challenge 
During this year's Boston Marathon weekend, two Boston University MSOT-II students will be hitting the pavement in a unique way.  Carly Brauer and Andrea Sachs will be participating in the Blindfold Challenge, an event raising money for organizations that serve people who are blind or have visual impairments. The Challenge will take place on April 19, 2014, as part of the Boston Athletic Association 5k. Carly will run the race blindfolded while Andrea acts as her sighted guide. They are excited to gain perspective on what it is like to live with a visual impairment and to spread awareness to those who may not know just how much people with visual impairments can accomplish.
Andrea and Carly will run to raise money for Perkins School for the Blind, the site of their Group Leadership Experience. For their Group Leadership, they are conducting a mealtime etiquette group for students ages 16-21 in the Keller-Sullivan residential program. The group meets during dinner time once a week and addresses specific etiquette skills and general strategies for appropriate mealtime behavior.
---
PTE holds Lead the Way Symposium
Seventy people attended the Boston University Department of Occupational Therapy's Lead the Way Symposium on Saturday, March 2, 2014, from 8am to 12:30pm. The focus of the Symposium was on Innovative Occupation-Centered Practice with Older Adults.  This educational and networking event was coordinated by MSOT-II student members of Pi Theta Epsilon (PTE), the national occupational therapy honor society, and the PTE faculty advisor Karen Jacobs.  Additional Boston University Occupational Therapy faculty contributed to the event, which began with an early morning welcome, followed by an introduction to Older Adults and Occupation-Based Practice by faculty member, Sue Berger, PhD, OTR/L, BCG, FAOTA.  This introduction was followed by presentations from practitioners working with older adults at Emerson Hospital, Massachusetts General Hospital, MAB Community Services Hebrew Senior Life, Bedford VA Hospital, and Aegis Therapies.  Kristen Dixon Keilty, MS, OTR/L and Dona Erdman MS, OTR/L, DRS, PDI were the first to share experiences from their work at Emerson Hospital, in a presentation titled, "An Innovative Model for Driver Assessment Includes the Occupational Therapist for Behind-the-Wheel Evaluation."  Faculty member, Anne Escher, MS, OTR/L then contributed to the symposium with her presentation, "A Vision to Address Low Vision," based on her work at MAB Community Services.  This presentation was followed by a panel discussion for occupational therapy practitioners and students to ask questions and engage in dialogue.
Kimberly Erler, MS, OTR/L, who works at Massachusetts General Hospital  in inpatient acute care, then presented on "Occupational Therapists as Ethics consultants."  Following this presentation, Margaret Glynn, OTR/L and Sarah Charest, MS, OTR/L of Hebrew Senior Life spoke about "Providing Palliative Care in the Long Term Care Setting: Occupational Therapy's Role in Improving the Quality of Life in Frail Elders."  Again occupational therapy practitioners and students engaged in dialogue and asked questions during a panel discussion, which was followed by an opportunity to network and look at posters related to aging adults developed by PTE members in preparation for the Symposium.  Posters focused on a variety of topics related to older adults, including the role of OT in urinary incontinence, sexuality, retirement planning, civic engagement and volunteering, aging in place, and depression.
Nancy Keebler, OTR/L from Bedford VA Hospital shared insights within her presentation, "Wives do All the Talking."  Attendees then learned from Julie Hammond MS, OTR/L,CDI of Aegis Therapies, who spoke about "Preventing Falls: An Interdisciplinary Approach for Older Adults with Cognitive Impairments."  The final presentation, titled "The Occupation of "Patient": Occupational Therapy's Role in Supporting Older Adults with Delirium or Dementia in Acute Care," was completed by Karen Turner, MS, OTR/L and Christin Carifio, MS, OTR/L of Massachusetts General Hospital, Inpatient Mental Health.  Occupational therapy practitioners in attendance participated in a final panel discussion, and the program then concluded with a summation by Karen Jacobs.
Participants at the Lead the Way Symposium had the opportunity to gain perspectives on ways to incorporate occupation into their practice with older adults. The presenters from different settings demonstrated the use of a variety of assessments, intervention outcomes, documentation and strategies for success.  The meaningful educational experience was worthwhile and effective in providing useful information to practitioners and students in attendance.  Participant feedback included, "I really enjoyed the symposium and happy that I attended. I thought the speakers were great, and the BU team was as motivating as I recall from my education there. Overall I was greatly impressed by the content" and "there was so much positive energy at the Symposium. Attendees felt inspired".    The program would not have been possible without the efforts of Karen Jacobs, the PTE faculty advisor, and James Suridis, the PTE president, who coordinated efforts to make the event a success.  The following PTE members contributed to making the Symposium a success: Allison Boris, Stephanie Carlo, Carly Brauer, Holly Cordisco, Kendra Curran, Jackie Farrell, Leslie Hill, Kerry Lane, Lauren Mazel, Rachel Moore, Justin Pennisi, Kat Rusnak, Romeissa Selmane, and Emily Traglia.  In additional Michael Weisman, graduate assistant for Lead the Way, and Alissa Gador introduced all the speakers.

---
MSOT Graduate Receives MS Rehabilitation Fellowship
Dana Aravich, MSOT (2014) has received one of 12 MS Rehabilitation Fellowships given out by The Consortium of Multiple Sclerosis Centers (CMSC) and the International Organization of Multiple Sclerosis Rehabilitation Therapists (IOMSRT). The MS Rehabilitation Fellowships are training programs for rehabilitation professionals and graduate students in the areas of physical therapy, occupational therapy and speech/language pathology. The fellowship program is for professionals and professionals-in-training who want to learn more about rehabilitation in multiple sclerosis. Ms. Aravich will spend a week at the Tanner Center in Birmingham, Alabama with their MS Team. Ms. Aravich's interest in working with individuals with multiple sclerosis began with her Schweitzer project at the Boston Home, a specialized long-term care setting for those with neurological conditions. For her project, Dana helped to develop a technology task group and to connect residents with those outside of their community. Dana hopes to continue to work with those with MS at her first job as an occupational therapist.
Boston University MSOT Students: Leading the Way Fall 2013
Articles below were written by Boston University MSOT students and featured in the Fall 2013 issue of our department newsletter InsideOT .
---
Occupational Therapy in Quito, Ecuador
Prof Sue Berger and five BU students (Dana Aravich, Allison Boris, Leslie Hill, Leanna Katz, and Kat Rusnak), along with faculty and students from St. Catherine University in Minnesota, traveled to Ecuador for two weeks this past June 2013. Students spent the mornings at a variety of sites, including clinics, schools, and community settings in Quito, Ecuador. They worked alongside occupational therapists, physical therapists, speech and language pathologists, and psychologists, learning about the unique and overlapping roles each of these professionals provide within their country. The group engaged in conversations with OT students at a University in Ecuador to share stories and to learn about cultural similarities and differences. They also traveled on weekends out of the city to rural towns, where they observed indigenous health care practices, and learned about the occupations of the people of Ecuador (such as weaving, music, and ecotourism). Through reflecting on experiences in Ecuador, the BU students gained a broader perspective of health care, an understanding of roles in the community, and an appreciation of the country's unique culture.
---
Occupational Therapy and Culture in Jaipur, India
by Rachel Moore and Gigi Jordan, MSOT II
For one month Rachel and Gigi lived and worked at DISHA, a non-profit center for special education, located in Jaipur, India. DISHA offers occupational therapy, speech therapy, physical therapy, and vocational training for children and adults. The students were between 3 and 30 years old, with diagnoses such as cerebral palsy, autism, down syndrome, mental retardation and ADHD. While at DISHA, Rachel and Gigi attended sensory integration sessions where the therapist worked one-on-one with a child, and hand therapy sessions where children were provided with therapeutic exercises. Additionally Rachel and Gigi provided assistance with feeding, positioning, and mobility. The experience at DISHA demonstrated the many similarities and differences between the practice of occupational therapy in the United States and India. They were struck by the effect that context has on the way occupational therapy is delivered and how they had to adapt their own methods to suit the environment.
---
Students Inducted into OT Honor Society
This September 2013, 15 MSOT II students were inducted into Pi Theta Epsilon, the National Occupational Therapy Honor Society. Pi Theta Epsilon strives to instill in its members a respect for learning and a commitment to scholarship throughout one's professional life. The student inductees included Carly Brauer, Stephanie Carlo, Holy Cordisco, Kendra Curran, Jacquelyn Farrell, Leslie Hill, Kerry Lane, Lauren Mazel, Rachel Moore, Justin Pennisi, Katrina Rusnak, Romeissa Selmane, James Suridis, and Emily Traglia. These students have each earned at least a 3.5 in their three professional semesters in the program and represent the top 35% of the MSOT II class.  In addition to the student inductees, faculty members Ellen Cohn, Karen Jacobs, and Nancy Lowenstein were inducted as honorary members.
---
Schweitzer Fellows: Leanna Katz and Romeissa Salmene
MSOT II Students Leanna Katz and Romeissa Salmene are among 220 students nationwide, selected as Schweitzer fellows for the 2013/2014 academic year. As a Schwetizer fellow, Leanna will address violence as a health issue at the Center for Community Health and Health Equality at Brigham and Women's Hospital. She will use a client-driven occupational framework in a transitional program for victims of violence who are returning to their respective communities. With support groups, client empowerment, and social interactions, Katz hopes to improve the quality of life for these individuals. With her fellowship, Salmene will promote regular physical activity at the Ivy Street School, which provides residential and educational treatment to adolescents with brain injuries and other neurological disorders. Her program aims to encourage positive attitudes and behaviors towards physical activity by allowing students to take ownership of an after-school physical activities group. Upon completion of their initial year as fellows, Leanna and Romeissa will become Schweitzer Fellows for Life, a group of over 2,700 alumni who are committed to addressing the health heeds of underserved people throughout their careers. Since 2000, twelve students in Sargent's OT Department have been honored as Schweitzer fellows.
---
BU Sargent College Participates in Autism Speaks Walk
On October 6, 2013, members of BU Sargent College participated in the Autism Speaks Walk in East Boston. This was the first event for the newly formed Sargent Interprofessional Education Committee, which seeks to promote communication and collaboration between the professions at Sargent College. The event was a great opportunity for members of Sargent College to connect while representing Boston University and raising money for Autism Speaks.
---
Brookline Study: Accessible Communities Initiative for Individuals with Visual Impairments
This past spring 2013 semester Kat Kozomora and Holly Cordisco, current MSOT IIs, worked with Jen Kaldenberg to conduct an environmental analysis of different public buildings in Brookline, MA, as part of its Age-Friendly Cities initiative. Kat and Holly visited public libraries and the Brookline Senior Center and assessed their accessibility for individuals with low vision. Upon completion of the environmental assessment, the results and recommendations were presented to members of the Board of Selectmen, the Council on Aging, the Public Library, and the Brookline Community Aging Network, a citizens' organization affiliated with the Council on Aging. This fall the researchers found out that the town of Brookline has decided to replace signage in the libraries and the senior center so that it is more accessible for everyone.
---
Interprofessional Intensive Stroke Program
Anne Escher, Sue Berger, and six BU students (Carly Brauer, Danyelle Cariaga, Holly Cordisco, Romeissa Selmane, Jackie Farrell, and Jessica Gallagher) participated in the summer 2013 interprofessional, intensive stroke program. The program runs for four weeks (six hours a day, five days a week) in order to provide persons post-stroke living with aphasia an opportunity to receive nutritional counseling, occupational therapy, physical therapy, and speech therapy. Students and faculty from all four professions worked together to plan and implement an exciting and challenging month for participants. One of the highlights was an outing to the State house for Aphasia Awareness Day, which provided the participants an opportunity to interact with members of congress and others in order to advocate for their needs. The participants' hard work and determination throughout the program showed in their exciting results, including return to many meaningful occupations (for example, cooking, camping, and volunteering) that they hadn't participated in since their strokes.
---
Students Promote Backpack Awareness Day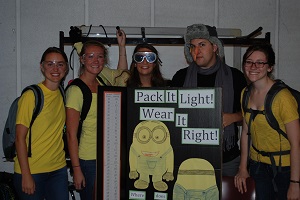 On September 18, 2013, National Backpack Awareness Day, MSOT I students visited Jackson Mann K-8 school in Brighton, MA to promote backpack awareness. The students involved were part of Karen Jacobs' Analysis and Adaptation class, and created a performance and activities designed to teach children how to safely wear backpacks in order to prevent pain and injury. The students engaged the children with a skit based on the popular movie Despicable Me and then gave the children the opportunity to weigh their own backpacks and talk about any backpack related pain that they were experiencing. The day was a great success, with the students giving four performances to a total of over 700 children.
---
Creating Children's Literature to Promote Occupational Therapy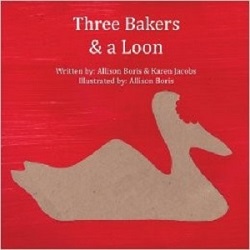 Professor Karen Jacobs and MSOT II Allison Boris recently co-authored the children's book Three Bakers & a Loon. Karen and Allison met weekly to create the story about a preschooler with autism receiving early intervention in his home, and his engaging interactions with Sally the OT, in baking cookies as a meaningful occupation. Allison used the medium of collage to provide illustrations for the story. This book is one of Karen's works of children's literature designed to promote understanding of disability. She previously co-authored How Full is Sophia's Backpack?, a children's book about a grandmother and her two grandchildren, one of which receives OT. Karen explains that for many young people, engaging with others with disabilities can be accompanied by a great deal of uncertainty. Through books that explore relationships and services, children are given information that can help to take away some of the "unknown," thus helping to promote more meaningful interactions between those with and without disabilities. For more information, Karen Jacobs can be contacted at kjacobs@bu.edu and http://blogs.bu.edu/kjacobs/ (Three Bakers and a Loon can be found here).
---
Ben Vereen Speaks at BU Sargent College 
On October 25, 2013, award winning actor, dancer, and singer Ben Vereen spoke at BU Sargent College to share his experiences as a proud recipient of occupational therapy services. In 1992, Ben experienced a series of accidents and a stroke and was told by physicians that his injuries would prevent him from ever singing or dancing again. He credits much of his amazing rehabilitation to the "calm persistence" of his occupational therapists. Ben was highly inspirational as he praised the work of OTs and applauded OT students in the audience for pursuing what he believes to be a profoundly worthy and helpful profession. Ben spoke of OTs when saying "sometimes it's your words, sometimes it's your mere touch, sometimes it's your mere presence in the room that makes up miles and miles of difference to someone else." Ben inspired students and faculty with his conviction and passion as he described his occupational therapy experiences and rehabilitation journey.
Boston University MSOT Students: Leading the Way 2012
Articles below were written by Boston University MSOT students and featured in the 2012 issue of our department newsletter InsideOT.
---
Students Inducted into Pi Theta Epsilon
The newly inducted Pi Theta Epsilon members are Karen Zucker (President), Natasha Dastur (Vice-President), Joanna Stumper (Secretary), Elizabeth Strasfeld (Treasurer), Dana Aravich, Marika Austin, Lauren Bucko DeGraan, Carlyn Burdick, Kelly David, Carmel Friedman, Ruth Morris, Jessica Mulligan, Jessica Reed, Andrea Son, Isha Vora, Benjamin Wiechman, Emma Wilking, Miranda Wilson, and Karen Jacobs (advisor).
Throughout this year, our group has worked to find a project that combines the scholarly work of PTE and our drive to help the community. As a result, we are launching an effort to assist some of the support groups offered at Newton-Wellesley Hospital. We will be reaching out to these groups and finding out what type of services we might be able to offer them, in the form of an evidence-based tip sheet, a review of recently published literature, or ways in which occupational therapy services may be able to help them and how they can access these services. We hope to be able to initiate some meetings and begin providing these services by May 2013. In addition to this major project, we hope to coordinate an event with Pi Theta Epsilon members and occupational therapy students in other programs in the Boston area in order to create opportunities for networking and relationships in the future.
---
Museum Projects
Allison Boris, MSOT I student, collaborated with the Museum of Science (Boston), the Boston Children's Museum, and the Boston Museum of Fine Arts to develop social stories to support inclusion initiatives and create welcoming experiences for people with disabilities to enjoy these cultural venues. Research documents the effectiveness of social stories for children and youth on the autism spectrum (Kokina & Kern, 2010). For this population, social stories have been effective in helping with structuring and completing homework, decreasing inappropriate and undesirable behaviors, improving appropriate play, social interactions, and participation in desired activities. Alison was supervised by Ellen Cohn and Gael Orsmond.
---
MAOT Conference 2012
MSOT students present exemplars of evidence-based and theory driven occupational therapy group interventions at the 2012 Massachusetts Association of Occupational Therapy annual conference.

Photo-A: On Your Toes: Occupational Therapy's Role in Facilitating Children's Motor and Social Skills through an Inclusive Dance Program (presented by: Sarah Kreditor & Elizabeth Munsell).
Photo-B: Promoting Leisure Participation for Adults with Aphasia Smiles Photography Group (presented by: Meghan Dooley & Christine Lin).
Photo-C: Using Video Self-Modeling to promote Pro-Social Behaviors in Youth with Emotional and Behavioral Disorders (presented by: Julia Bantimba & Pam Vaughn).

---
MSOT Students in Ecuador 2012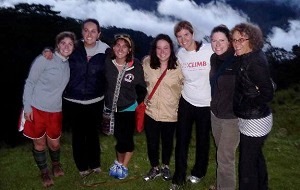 Ellen Cohn and BU Students (Dafna Goldwasser, Linda Vena, Ruth Morris, Lauren Bucko Degraan, Lauren Friedman, Sarah Masse) in Ecuador.
Ecuador has a variety of indigenous groups of people living alongside people from European descent. This diversity creates a rich opportunity to understand how culture impacts the experience of health, health practices, and health care delivery. Occupational Therapy students traveled to Ecuador on an international immersion experience to explore the cultural influences on the experience of health and health care delivery. Students engaged with local health care practitioners to explore issues such as traditional health practices, health disparities, marginalization, and environmental conditions that influence health. Students worked in non-profit agencies serving persons with disabilities alongside local therapists.
---
DISHA: A Resource Center for the Disabled is a facility serving individuals ranging from 3 to 35 years old.
by K. Zoe Tsargaris and Isha Vora, MSOT 2
DISHA offers physical, occupational, speech, and aquatic therapies to all children in need, as well as academics and vocational training taught by specially trained teachers and staff. As visiting students completing an independent study, we had the opportunity to be hands on, working with children ranging primarily from 4 to 12 years old. Additionally, we had the privilege of presenting to faculty on the topics of sensory integration and oral motor control, providing insight on OTs role and specific evidence-based, cost-effective interventions. This experience served as a great lesson in understanding how allied health care is delivered and taught abroad. As a result of this opportunity, we are more confident, well-rounded, future therapists with an understanding of global needs.
---
Schweitzer Fellow: Dana Aravich
MSOT II Student, Dana Aravich is one of 15 Boston 2012-2013 Schweitzer Fellows. She was selected from an applicant pool of over 50 students in the health care arena at various Boston area universities. Her project is working to build community through a peer-based technology and social networking program at the Boston Home (a residence for Adults with Advanced Multiple Sclerosis and other Progressive Neurological Diseases). For people living with physical disabilities, traditional modes of socializing can be difficult due to accessibility issues and physical limitations—and online social networks combined with assistive technology can serve as lifelines that reduce isolation, build community, and promote engagement in occupation. Dana identified that the residents of the Boston Home have moved away from loved ones and friends to live in an environment that promotes maximum independence, but isolates them from their support network. Their ability to visit family and friends is compromised by fatigue, severe physical limitations, inaccessible public transportation, and limited income. Dana identified that social networks like Facebook, coupled with assistive technology and other computer programs, such as Skype, can enhance social involvement with those outside the Boston Home. As a Schweitzer Fellow, Dana is teaching the Boston Home residents to use virtual media to overcome barriers to community involvement. Dana's project aims to reduce the residential segregation the participants face by adapting computers to meet their physical and cognitive needs. In addition to creating a place for residents to take leadership positions as peer mentors, her project will encourage them to make their voices heard and advocate for their interests. As Dana states "I am not the leader, but a member of a group of interesting and caring individuals who share the belief that a disability should not limit one's participation in life."
The Computer Training Program's goal is to support individuals in creating, reestablishing, and sustaining meaningful personal roles, and to provide opportunities for increased social interaction both on and off the web. It is an inherently sustainable program, because it focuses on empowering the residents themselves and giving them the necessary leadership skills to continue on indefinitely. Dana uses a peer-based process, where she is training residents to teach other residents the skills required to access the social media and computer programs that can connect them with those outside of the Boston Home. Additionally, Dana involved the MSOT I students with he project, by setting up a Skype session between the residents of the Boston Home and students in Karen Jacobs' Analysis and Adaptation of Occupation class. This experience was beneficial for both groups.
Dana will finish her project in April 2013 and enter the Schweitzer Fellows for Life program.
---
AbleRoad App
by Alisa Domanski and Michele Rostowsky, MSOT 2
Please check out this new resource that may come in handy for you and your clients! It's a free app and website that provides accessibility information regarding vision, hearing, mobility, and cognition. It gives people with disabilities, families, friends, caregivers, and business owners an online destination to rate and review community access.
For more information, visit http://www.ableroad.com or download the free app!
To contribute articles for the BU InsideOT newsletter, please contact InsideOT@bu.edu.