Combined Bachelor of Science in Athletic Training/Doctor of Physical Therapy (6-year accelerated)
Note: We are no longer accepting applications for freshman entry into this program. Students who transfer into the program must complete all graduation requirements by May 2019.
We are excited to announce the transition of our athletic training program from the bachelor's degree to the master's degree level, a change that will soon be required for all athletic training programs.
Boston University is one of the very few places where you can earn both an athletic training degree and a Doctor of Physical Therapy in six years rather than seven. To succeed in this unique program, you must be a high achiever who's willing to work hard. To love it, you must be passionate about helping people.
We're a small, inspiring school inside a large, exciting university
BU College of Health & Rehabilitation Sciences: Sargent College is a close-knit community—one of the most active and involved at BU. Our programs rank among the best in the United States. Our faculty members, top professors, and practitioners love sharing their knowledge and collaborating with students. You'll get to know them in classes, clinical education, research projects, and your mentored academic practicum. And your education will extend beyond the traditional classroom. We offer didactic and practical learning opportunities in vibrant, state-of-the-art facilities – including our Physical Therapy and Athletic Training Lab and the Boston University Physical Therapy Center.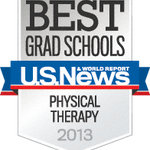 Beyond Sargent College, there's Boston University, a world-renowned liberal arts and research institution. Our urban campus is a hub of academic resources and student organizations and activities, energized by the intellectual, scientific, and cultural life of Boston. When you want to work out, our state-of-the-art Fitness & Recreation Center is minutes away. And volunteer opportunities are all around you, from HealthLeads to the student-run BU Community Service Center, offering programs including alternative spring break programs and connecting students to community outreach jobs and internships, among other opportunities. Learn more about our faculty's work in Sargent College's research labs in Special Edition Inside Sargent: Accomplishments in Physical Therapy.
Your clinical experience starts early and never stops
First comes the athletic training portion of the program. Using our athletic training network, you'll start learning to apply knowledge and hands-on skills in your freshman year. We have over 15 affiliated sites and 70 clinical instructors at BU and in the Boston area, all focused on creating real-life learning experiences for you.
The final athletic training experience is combined with the first physical therapy experience during the summer after your senior year. This eight-week, full-time experience, supervised by a clinician who is both an athletic trainer and a physical therapist, can occur anywhere in the United States. There is also an opportunity to travel outside the United States.
In the professional portion of the physical therapy program, an additional 36 weeks of supervised clinical experience will be integrated into your coursework, including a final six-month internship. You can choose from 700 sites across the United States, plus some international options as far away as Australia. Being exposed to so many different patient populations and work settings throughout the program will help you hone in on your own career goals.
You'll work hard, doing amazing things
The coursework is rigorous, continuing year-round through most of the program. Expect to be challenged by the material, the professors, your clinical training, and the caliber of your fellow students. Most of all, expect to have some unforgettable experiences.
For example, our students have interned with the Buffalo Bills, gained experience with our nationally ranked BU men's hockey team, and worked on the production of a two-day course for physical therapists in Guatemala. They've helped provide athletic training services to athletic teams in underserved city schools and to underprivileged kids with disabilities.
What will you do in the AT/DPT program? Interact with physicians in every setting, from the classroom to the emergency room. Work with real cadavers in the anatomy lab. Pursue your own project idea with a faculty mentor of your choice for your DPT academic practicum. And gain confidence as well as competence for entering practice as an athletic trainer and a physical therapist.
When you've completed the program, your BU degree will work hard for you, too. Our graduates have an edge, both in passing required examinations (Board of Certification examination and National Physical Therapy Examination) and in the job market.
You'll apply just once for the entire program
Once admitted as a freshman through Boston University's regular admissions process, you're admitted into the program with no separate application required. Then, if you continue to meet the program requirements, you'll matriculate directly into the physical therapy graduate program.
Note: Students in the combined AT/DPT and BS/DPT programs are considered undergraduate students–and subject to applicable undergraduate financial aid policies and procedures–until the completion of their senior year when they are awarded their Bachelor of Science degree.
We invite you to read more about the BSAT/DPT program, career options, and the experiences of our students. If you have questions, please email us.