Department of Speech, Language & Hearing Sciences
Fundamentals are the focus of our teaching in the Speech, Language & Hearing Department at BU College of Health & Rehabilitation: Sargent College. In any of our degree programs, you'll gain an understanding and appreciation of scientific inquiry combined with deep knowledge of the processes related to communication, cognition, and swallowing.
Starting with undergraduate degrees in Speech, Language & Hearing Sciences or a combined major with Linguistics, we offer academic programs for students at every level – including advanced research training in our PhD program. If your interest is in clinical speech-language pathology, our highly ranked MS-SLP is an excellent choice. Two accelerated combined degree programs, the BS/MS-SLP and MS-SLP/PhD are also innovative options for you to consider.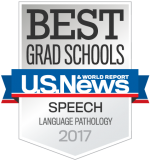 U.S. News & World Report ranks our master of science in speech-language pathology among the top 5% in the nation. Small classes and outstanding faculty contribute to excellence. Our location in a renowned urban center of science and medicine provides rich opportunities for clinical training and research. Our graduate students stand out for their high rate of program completion, employment, and subsequent leadership in the field as practitioners, researchers, and educators.
And our undergraduates? Besides assisting in the Sargent College clinic, they gain valuable experience and unforgettable experiences in dozens of volunteer programs on campus and in Boston. With a strong liberal arts foundation and solid professional education, most go on to be accepted into top graduate programs, both at BU and elsewhere.
Note: The BS/MS program is only open to BU Sargent College Speech, Language & Hearing Sciences undergraduates.