Academics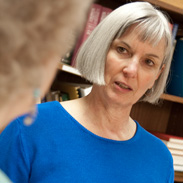 Like Boston University, the College of Health & Rehabilitation Sciences: Sargent College is internationally recognized for the caliber of its academic programs, faculty, and facilities.
Like the future of health care, we are multidisciplinary—in our interests, research, degree programs, and curricula. Our four departments span the health care professions. Besides tremendous breadth and depth in academics, you'll find a wealth of possibilities here for combining disciplines in your studies, professional training, research activities, and even your degree.
This section includes information about our academic departments and programs, both graduate and undergraduate. With so many paths that you can take from our programs, there's also a section on health care careers. To go directly to a specific degree program, use our quick Program Finder.
Health care careers are in demand. Find the one that's right for you and the degree programs that can take you there.
Our Program Finder page makes it easy to identify and jump to the specific program you want.
Learn about Sargent College's four academic departments and the degree programs they offer.
Not sure which health care career fits you best? This undergraduate program can help you find your niche without losing time.
Learn where to study, register, find an advisor, see your academic record, work on a computer, borrow equipment and more. Get links to other BU resources, too.