On the Ground in Ghana
In Accra, Ghana, an estimated 24 percent of people lack reliable access to drinking water. Some neighborhoods only receive government-rationed water at set times on certain days. The Centers for Disease Control and Prevention links cholera and other waterborne diseases to inadequate potable water supply; to avoid getting sick, most residents collect and drink the precious resource out of 500-ml "sachets," or plastic bags, that they purchase from distributors around the city. Since the sachets aren't regulated, Ghanaians take a chance every time they take a sip.
In summer 2017, BU students studying the prevention of malaria and diarrheal infections tested the water quality of seven companies' sachets. They placed droplets of water on petri dishes, which cultured for two days, then examined the results under a microscope. It turns out the sachets weren't a safe water source—six out of seven of the samples contained unacceptably high levels of fecal coliform bacteria, when measured against World Health Organization guidelines.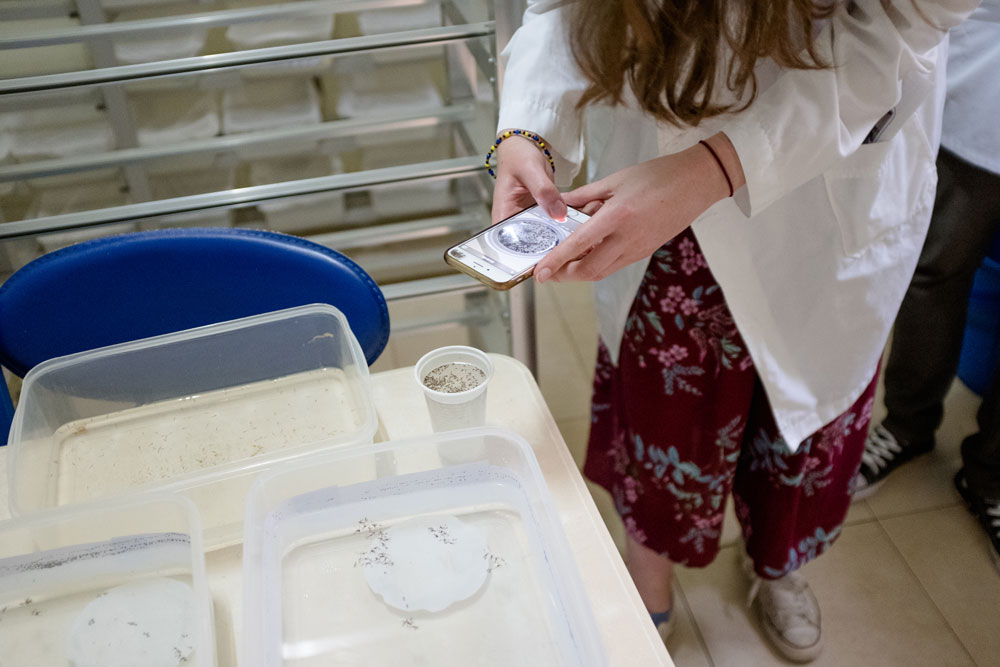 While the students didn't have the opportunity to act on their findings, scientists in Ghana are using these results to help develop a more detailed study on water sachet quality.
The experiment was part of the six-week Accra Global Health Program developed by Sargent College and England's Lancaster University. As part of the program, which began in 2016, eight BU students and eight Lancaster students traveled to Ghana to observe the inner workings of the country's health care system and to explore issues of public health. The undergrads took classes in microbiology and public health at the newly established Lancaster University Ghana, interned at health organizations, and made site visits to hospitals and nongovernmental organizations (NGOs). As Ghana's capital city, Accra houses the biggest hospital in West Africa and offers students the opportunity to meet health workers from other countries, like Nigeria and Sierra Leone.
"To be able to go to a global health lab, travel to another country, take courses in global health and microbiology? It's an invaluable experience," says Lawrence Were, a Sargent College lecturer in health sciences who teaches the program's public health component. "It embodies the principles of experiential learning by encouraging students to reflect on what they are doing as they learn. This teaches students skills they will need to address global challenges; allows them to self-direct their learning; and enables them to take initiative, make decisions, and be accountable for the results."
The program "embodies the principles of experiential learning by encouraging students to reflect on what they are doing as they learn."

—Lawrence Were
In the first half of the program, students took a month-long course divided into two sections: microbiology (where they performed the sachet testing) and social determinants of health, which the World Health Organization defines as the conditions in which people are born, grow, live, work, and age, and how these factors weigh into health inequities.
During the program's second half, students worked at practicum sites aligned with their interests. Paul Ashigbie (SPH'17), a School of Public Health research fellow who arranged the practicums, says their goal was for students to apply what they learned in the classroom to real-world situations. The sites included Cancer Connect Ghana, a nonprofit supporting people with cancer and their caregivers; Inclusion Ghana, an NGO that advocates for Ghanaians with physical or intellectual disabilities and special education needs; and Marie Stopes International-Ghana, which offers sexual and reproductive health services, including contraception and safe abortion services in all of Ghana's 10 regions.
In her work with the Adventist Development and Relief Agency, an NGO that, among other efforts, works to prevent HIV/AIDS in female sex workers, Imme Kobayashi ('19) confirmed that the ages of sex workers had been correctly entered in the computer system. "The data didn't seem real," Kobayashi says. "There were girls who fell into the category of 10 to 19, younger than me. My heart just sank. It showed me how the unequal distribution of wealth in this country affects kids."
Clara Martin ('19) interned at the West Africa AIDS Foundation, where she educated local high school students on safe sex. While Ghana has made significant progress in the fight against HIV/AIDS, Greater Accra has one of the highest HIV prevalence rates in the country, with 2.4 percent of people infected with the disease, compared to 0.7 percent of the Northern Region's population, for example.
Martin says her internship gave her an on-the-ground understanding of the topics she had discussed in the public health class. "I saw social determinants of health coming into play when considering why people might not get tested, why they engage in risky behavior that could lead to HIV infection, why patients don't come to the clinic regularly, and why they stop taking their antiretroviral therapy drugs," she says. "All of these choices—and sometimes it's not a choice—are influenced by an individual's background."
Martin says the Accra Global Health Program has inspired her to continue working in public health after graduation. "In the US, we're lacking many of the health problems that the Ghanaians have," she says. "It's been eye-opening to learn about how public health works in such a different part of the world."
Read more stories from Inside Sargent here.