An Empowering Process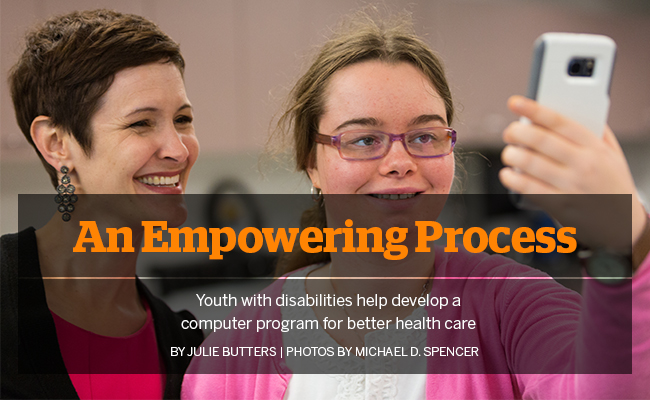 Youth with disabilities don't just have a right to be involved in decisions about their health care—they have the insight needed to create better care, says Jessica M. Kramer. The assistant professor of occupational therapy is working with Ariel Schwartz ('16) and six Boston-area teens and young adults to develop a computer program for young people who have intellectual or neurodevelopmental disabilities or certain genetic disorders.
PEDI-PRO (Pediatric Evaluation of Disability Inventory Patient Reported Outcome) will guide users through a questionnaire that assesses their ability to engage in daily activities. It is expected to be the first self-assessment for this group, who are normally evaluated by parents and clinicians. Kramer, who also directs Sargent's Youth and Young Adult Empowerment, Leadership, and Learning (YELL) Lab, says the PEDI-PRO team thought of new assessment activities, such as remembering a debit card PIN and using a self-checkout machine. Families and clinicians will use PEDI-PRO to add crucial and practical information to their own evaluations.
The PEDI-PRO can help its users gain independence, says high school senior Marianne Mahoney, who has spina bifida and learning disabilities, and whose role on the youth team includes developing questions, running focus groups, and analyzing results. Self-evaluating when young, she says, will help youth with disabilities advocate for themselves later on in life. Funding for the tool, which Kramer estimates will be market-ready in five years, is provided in part by a National Institutes of Health grant of $405,000 for the Comprehensive Opportunities in Rehabilitation Research Training (CORRT) program—a university collaborative in which BU is a partnering institution.
Read more articles from Inside Sargent, 2016–2017