From Pain to Participation
The 52.5 million people in the United States with arthritis experience pain, stiffness, and inflammation that often keep them from performing everyday tasks. Inactivity only exacerbates their symptoms. While people with arthritis may find some relief with medicine or surgery, such treatments don't necessarily help them change their routines to attain more fulfilling lives, says Julie Keysor, director of Sargent's Center for Enhancing Activity & Participation among Persons with Arthritis (ENACT).
"We need a paradigm shift," says Keysor. "It's absolutely important to look at the pain and the medications," but it is equally important to "make sure we're meeting the needs of the patients in their broader daily activities." ENACT is at the forefront of this shift, conducting two studies that focus on promoting exercise adherence among people with arthritis and helping them continue working.
WATCH: For Julie Keysor, director of ENACT, arthritis is personal.
Judy's knee osteoarthritis (OA) was so painful that she had not climbed a flight of stairs reciprocally (one foot above another) for 12 years. Instead, she stepped up first with the leg unaffected by OA, and then brought her affected leg to the same stair to avoid putting her full weight on her painful knee. Tired of her mobility limitations, Judy signed up for ENACT's BOOST study, which helps people with her condition learn to exercise safely and effectively. (Study participants' last names have been withheld throughout for privacy.)
At her first session Judy was faced with a flight of stairs. Kelly Pesanelli, a senior physical therapist at Sargent's Ryan Center for Sports Medicine & Rehabilitation, said, "Let's take one at a time, make sure your mechanics are okay, and then see if you can make it up six stairs." She helped Judy position her legs correctly to minimize strain on her knees, and then Judy climbed six stairs pain free. She began to cry.
"My first reaction was, oh my gosh, she's in pain," Pesanelli recalls. "But they were tears of joy."
Like many people with arthritis, Judy had modified or avoided climbing stairs and other tasks in part because she had never received guidance on how to live with the disease. Primary care physicians don't have time to teach patients how to adjust their movements, and referring patients to physical therapy can be "a hit-or-miss proposition," says David Felson, director of BU's Clinical Epidemiology Research & Training Unit. "Physical therapy prescriptions are short term, and the exercise requirement is a long-term need." Without ongoing, individualized support, people with arthritis find maintaining a regular exercise regimen to be difficult; less than 15 percent of individuals over the age of 65 perform strength training, even though they know exercise is proven to help minimize pain.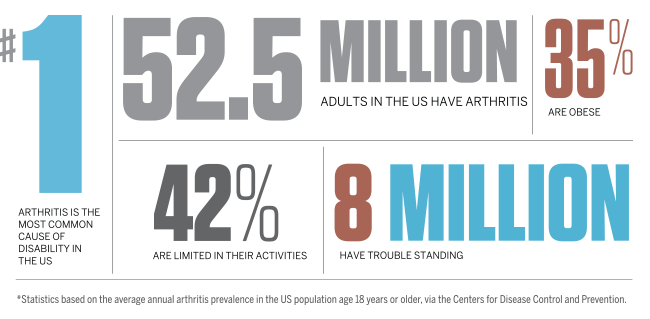 The goal of the BOOST study is to determine if telephone-linked communication (TLC) is an effective method for encouraging people with arthritis to keep up a strength-training program over the long term. During the study that started in 2011, participants visit ENACT twice a week for six weeks of supervised exercise. On their first visit, they receive illustrated instructions, a logbook, and a binder with helpful hints about footwear, rest, and hydration. In addition to their supervised routine, the participants agree to exercise at home once a week. The question is whether they'll actually do it—and that's where a little TLC comes in. Participants receive an automated phone reminder every 14 to 28 days.
"What we are hoping to show is that by regularly reminding people to exercise, their strength and functional abilities improve," Pesanelli says. The study also aims to test whether people need reminders.
Sara, another BOOST participant, found that the "motivational" phone calls kept her on track. "You think, 'I have to do this exercise because they're going to call,' and I want to say, 'Yes, I did what I said I was going to do.'"
"What we are hoping to show is that by regularly reminding people to exercise, their strength and functional abilities improve."

—Kelly Pesanelli
At the end of each call, participants are encouraged to log their questions or concerns, which the system disseminates to ENACT staff. Sara logged a concern about knee pain, for instance, and in the course of a short follow-up call Pesanelli determined she was exercising with too much weight. Sara was already active in her day-to-day life, sometimes walking as much as five miles. She and Pesanelli adjusted her exercise regimen so that if she had a particularly active day, she would perform half of the program and finish the other half the following day. "You can change your strategies to keep yourself motivated," Sara says.
Sara found the study empowering. She likes "that we can do it on our own, because we have all the equipment. It's good to know that I've had a professional person tell me that what I'm doing is working, that I'm not doing too much, or that I should cut back."
Pesanelli is already finding that BOOST makes a difference in the lives of the participants. "A lot of people come in and say, 'I can walk my dog now. I can get off and on the T now. I can carry my laundry basket up the stairs,'" she says. "They are seeing functional improvements in their day-to-day lives, and it's those milestones that get them to say, 'Now I get why you told me I have to exercise.'"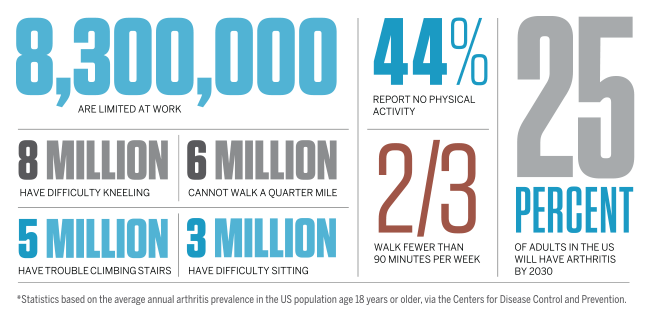 Your knees stiffen in traffic, your back aches at your desk, your fingers throb on the keyboard. People are often diagnosed with arthritis mid-career—and the disease causes disabling symptoms. More than 5 percent of adults in the United States report that arthritis limits their ability to work—and yet there is no system in place to help them retain their jobs. The pain often forces them to stop working within 10 years of being diagnosed with the disease.
ENACT's Work It study, which began in 2010, is investigating whether early intervention can help people with arthritis keep their jobs. In the five-year study, participants meet with physical and occupational therapists for a structured, 90-minute interview at their place of employment or near their home to review the challenges they are experiencing at work. "To my knowledge, this is the first time we're looking at having physical therapists and occupational therapists deliver this sort of intervention for people through their community," says Keysor.
The interview includes a health evaluation and an overview of the work environment, including whether "there are issues with being able to get the support they need from coworkers or their boss," says Linda Della-Porta, an interventionist for the study and an occupational therapist at Beth Israel Deaconess Medical Center, who often collaborates with ENACT. Therapists, like Della-Porta, explore issues like how people get to work, where they park, how far they walk, and how long they stand.
"To my knowledge, this is the first time we're looking at having physical therapists and occupational therapists deliver this sort of intervention for people through their community."

—Julie Keysor
The therapist works with the participant to pinpoint goals to increase their workplace wellness and overall health. These may include making adjustments to workstation ergonomics, shifting hours to avoid a heavy commute, and working from home one day a week to lessen travel time. The intervention does not end there. Three weeks after the initial meeting, the therapist calls the participant to check in on their progress. "It's a different way of doing therapy," Della-Porta says. "I see this as part of a new model of telehealth."
Della-Porta recalls one participant in a high-powered job who needed to ask her boss to change her workload so she didn't tire as easily. "She did a great job carrying out the intervention," Della-Porta says. "I felt like I was really more of her guide, and she came up with some great changes that made a difference for her. Work It is very empowering for participants because therapists are not just telling them what to do. It's getting away from that paradigm where people want somebody else to fix them. Instead, we are working together, which gives the power more to the person to make changes in their life in order to be healthier, work with less pain, and stay employed."
Despite the strides made as a result of the BOOST and Work It studies, there is still work to be done. "The research is absolutely important, but it is also crucial to train people and make sure that we get the information to the consumers," Keysor says. This mission is central to the grant supporting the two studies, as well as a third ENACT study focused on the outcomes of total knee replacement. The Rehabilitation Research and Training Center (RRTC) grant from the National Institute on Disability and Rehabilitation Research (NIDRR) supports ENACT in training the next generation of clinical researchers and provides assistance with disseminating the results of the studies. "NIDRR wants really good, rigorous, high-quality research, but they also want to get the information to people to make a difference in their lives," Keysor says.
The issue of closing the gap between knowledge and practice was central to the NIDRR-funded State of the Science Meeting that Sargent hosted on April 7, 2014, in Washington, DC. The 75 participants—leaders in the fields of rheumatology and rehabilitation science—discussed promoting activity and participation in the settings of community, rehabilitation, and employment, and how the results of studies like BOOST and Work It could be integrated into the health care system. "We need to think of new models for care, which may be more public health–oriented or may mean merging rehab and public health," Keysor says. "And we need to think of ways beyond the health care system to deliver them."
---