Travis Roy to speak at the 2012 Meredith E. Drench Lecture
What: Lecture titled "Defying the Odds: Rehabilitation and Perseverance After Spinal Cord Injury"
Where: BU S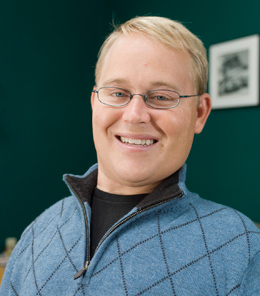 argent College, 635 Commonwealth Ave, Room 101, Boston, MA 02215
When: Wednesday, April 4th, 2012, 4:00 p.m.
There will be a reception following the lecture in the Setterberg Lounge, 2nd floor
Who: Travis Roy (COM '00) is a motivational speaker, author of Eleven Seconds, and activist for individuals living with spinal cord injuries. In the fall of 1995, at the age of twenty, Roy entered his first collegiate hockey game at Boston University. Eleven seconds into his first shift, his life changed forever as he crashed into the boards and cracked his fourth and fifth cervical vertebra, paralyzing him from the neck down.
Less than a year after his accident Roy returned to Boston University to complete  a degree in public relations from BU's College of Communication. In 1997, he collaborated with Sports Illustrated's E.M. Swift to pen his autobiography Eleven Seconds chronicling his accident, rehabilitation, and perseverance through personal tragedy.
Roy founded the Travis Roy Foundation, a nonprofit dedicated to finding a cure for spinal cord injuries and helping spinal cord injury survivors purchase the costly adaptive equipment necessary to live more active and independent lives.
About the Meredith E. Drench Lecture Series: Dr. Meredith Drench, a Sargent PT alumna, established Sargent College's first endowed lecture series in 2009. The lecture series focuses on the psychosocial aspects of rehabilitation.
About Meredith E. Drench: Meredith E. Drench, PhD, PT, is a behavioral specialist who emphasizes communication, ethical empowerment, and collaboration. With a bachelor's degree in physical therapy from Sargent College, a master's in rehabilitation administration, and a PhD in behavioral rehabilitation, Dr. Drench is a bridge between the fields of physical rehabilitation and psychosocial behavioral sciences. Addressing sensitive issues, she involves participants and creates a supportive bridge to learning.
Dr. Drench works with companies, agencies, associations, health care facilities, and universities, emphasizing communication and collaboration. She has published numerous articles, is a contributing author of four books, and has written two books about health professionals: Psychosocial Aspects of Health Care and Red Ribbons Are Not Enough. The founding director of Adaptive Health Associates, Inc., Dr. Drench also speaks, gives training workshops and seminars, and consults on psychosocial behavior in health care. She frequently addresses American Physical Therapy Association and American Occupational Therapy Association sessions.
Dr. Drench established the Meredith E. Drench Lectureship Fund, Sargent College's first endowed lecture series, to share her passion and belief in "compassionate rehabilitation" of the whole person.
WATCH last year's Drench Lecture, presented by Simi Linton.