Nancy Harrowitz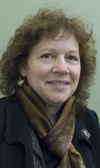 Title

Chair of Romance Studies,
Head of Italian Section (Spring 2016),
Associate Professor of Italian

Office

718 Commonwealth Avenue, Room 105

Email

Phone

617-353-6225

Education

BA, University of Oregon
MA, Case Western Reserve University
PhD, Yale University
Courses
Italian Literature III: Modern Period
Development of techniques for reading and interpreting Italian literary texts. Historical and critical study of Italian literature from the eighteenth to the twentieth century: Alfieri, Romanticism and Leopardi, Verga, Capuana and verismo, theatre of Pirandello. Carries humanities divisional credit in CAS.
2015FALLCASLI352 A1, Sep 3rd to Dec 10th 2015
| Days | Start | End | Type | Bldg | Room | Instructor |
| --- | --- | --- | --- | --- | --- | --- |
| TR | 09:30:00 AM | 11:00:00 AM | | EPC | 204 | Harrowitz |
Research and Teaching
Professor Harrowitz' research and teaching interests include  nineteenth- and twentieth-century Italian literature, science and  literature, and Holocaust Studies. She is a specialist in Primo Levi  and is currently writing a book on Levi, science and Jewish identity.  She has published Antisemitism, Misogyny and the Logic of Cultural  Difference: Matilde Serao and Cesare Lombroso (1995), has edited   Tainted Greatness: Antisemitism and Cultural Heroes (1995), and co- edited with Barbara Hyams Jews and Gender: Responses to Otto  Weininger(1996). Her work includes articles on Primo Levi, Giorgio  Bassani, Carlo Levi, and Margherita Sarfatti among others.
She teaches courses on modern Italian literature and on fascism and the Holocaust in Italy, often including film as part of the  curriculum. She also teaches courses in the comparative literature  program on Holocaust literature and film, and on Primo Levi and  Holocaust literature.