Francisco Moreno-Fernández: Visiting Professor in Spanish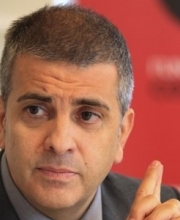 The Department of Romance Studies is pleased to welcome a distinguished Visiting Professor of Spanish, Francisco Moreno-Fernández, who will offer a course  on linguistic approaches to Medieval and Golden Age Spanish literature (Spring 2018: LS 456 A1). The course explores literature in dynamic relation to key moments in the history of the Spanish language.
Professor Moreno-Fernandez writes about linguistic variation and change, mainly focused on Spanish Language. Three of his major interests are Sociolinguistics, Dialectology and Social History.
He is author of Atlas de la lengua española en el mundo (with J. Otero, 3rd. ed. 2016), Historia social de las lenguas de España (2005), Spanish in Spain: The Sociolinguistics of Bilingual Areas (2007), The Sociolinguistics of Spanish: Social History, Norm, Variation and Change in Spain (2008), Principios de Sociolingüística y sociología del Lenguaje (4th ed. 2008), La lengua española en su geografía (3rd. ed. 2016), and La maravillosa historia del español (2015), among others.
He is currently co-editor of Spanish in Context (John Benjamins), co-editor of Journal of Linguistic Geography (Cambridge University Press), founder of Lengua y migración /Language / Migration, and member of the Editorial Board of International Journal of the Sociology of Language, and Journal of World Languages.
He is Professor of Hispanic linguistics at the University of Alcala (Spain) and Honorary Doctor of Universidad Ricardo Palma (Peru). He has held visiting appointments at Göteborg University (Sweden), Universidade de Sao Paulo (Brazil), University of Illinois at Chicago, Brigham Young University, and Pontificia Universidad Católica de Chile.
PDF of course flyer is available here: LS 456 A1