Professor Adela Pineda: New Perspectives on the Mexican Revolution
Prof. Adela Pineda of B.U., Prof. Jaime Marroquín of George Washington University, and Magdalena Mieri have co-edited an important book, Open Borders to a Revolution,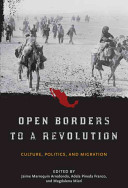 offering new perspectives on the immediate and long-lasting effects of the Mexican Revolution in the United States in such spheres as diplomacy, politics, and intellectual thought.
Prof. Pineda contributed an essay on the American film industry's Pancho Villa:  "Hollywood Villa and the Vicissitudes of Cross-Cultural Encounters" as well as a co-authored introduction and  interview with John Womack, Jr.
Open Borders marks both the bicentennial of Latin America's independence from Spain and the centennial of the Mexican Revolution, an anniversary with significant relevance for American history.
The book originated in a series of cultural events organized by The Smithsonian Institution, among them an academic symposium whose program was envisioned and developed by those who edited this volume: "Creating an Archetype: The Influence of the Mexican Revolution in the United States."  Contributors include John A. Britton, Helen Delpar, Mary Kay Vaughan, Theodore Cohen, Rick. A. López, Yolanda Padilla, David Dorado Romo, Oswaldo Zavala, Elaine A. Peña, Alma Martinez Carranza, Guillermo Gómez-Peña, and Gilbert M. Joseph.