Lectures in Criticism: Nestor Garcia Canclini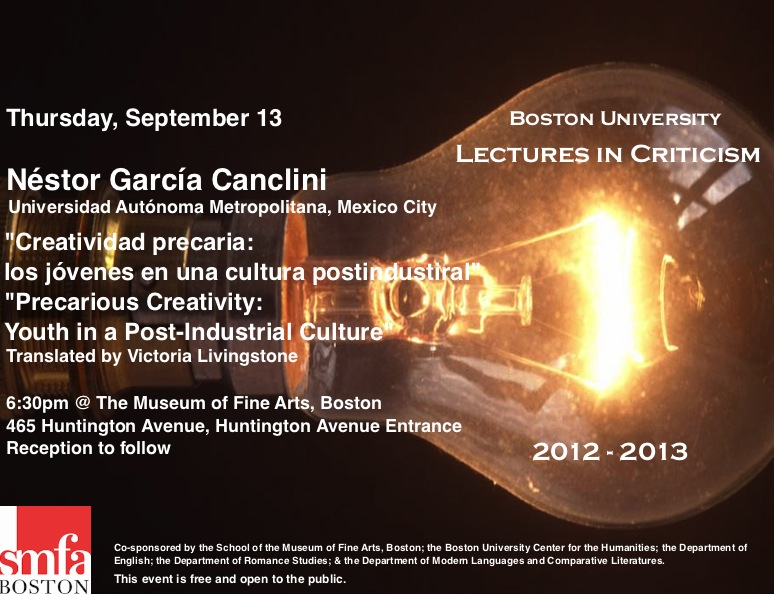 Nestor Garcia Canclini will be speaking at the Museum of Fine Arts at 6:30 pm on Thursday, September 13.  The title of his talk is "Creatividad precaria: los jovenes en una cultura postindustial / Precarious Creativity:  Youth in a Post-industrial Culture."  Enter the museum, 465 Huntington Avenue, at the Huntington Street entrance to receive a free ticket for the event.  A reception will follow the lecture.
The Museum of Fine Arts stays open until 9:45 pm that evening if you want to stay on and appreciate the art.  There are three different dining options available at the museum.  See www.mfa.org for more information.
Nestor García Canclini is an Argentine anthropologist and academic who has taught at the University of Texas Austin, Duke, Stanford, as well as universities in Barcelona, Buenos Aires, and São Paulo. García Canclini is currently a distinguished professor in the department of Anthropology in the Metropolitan Autonomous University (Universidad Autónoma Metropolitana) of Itzapalapa in Mexico City.
García Canclini is renowned for his work on concepts including hybridity, modernity, postmodernity and urbanity in Latin America, as well as the relationships between aesthetics, art, and youth cultural networks.  Among his fundamental works are the books 'Transforming Modernity: Popular Culture in Mexico' (Spanish title 'Las culturas populares en el capitalismo') (1982), 'Hybrid Cultures: Strategies for Entering and Leaving Modernity' ('Culturas híbridas: Estrategias para entrar y salir de la modernidad') (1990), 'Consumers and Citizens: Globalization and Multicultural Conflicts' ('Consumidores y ciudadanos. Conflictos multiculturales de la globalización') (1995), 'La globalización imaginada' (1999), and 'Diferentes, desiguales y desconectados. Mapas de la interculturalidad' (2004).
He has received numerous fellowships, awards and other recognitions, including a Guggenheim Fellowship, the Casa de las Américas prize for his book 'Las culturas populares en el capitalismo', the Book award from the Latin American Studies Association for his book 'Culturas híbridas', and most recently an award from the Organization of Ibero-american States.
The lecture is sponsored by the BU Center for the Humanities, the Museum of Fine Arts, and the departments of English, Romance Studies, and Modern Languages and Comparative Literature.