Flamenco Roots: A series of illustrated talks on the music's origins and evolution. (3-day event)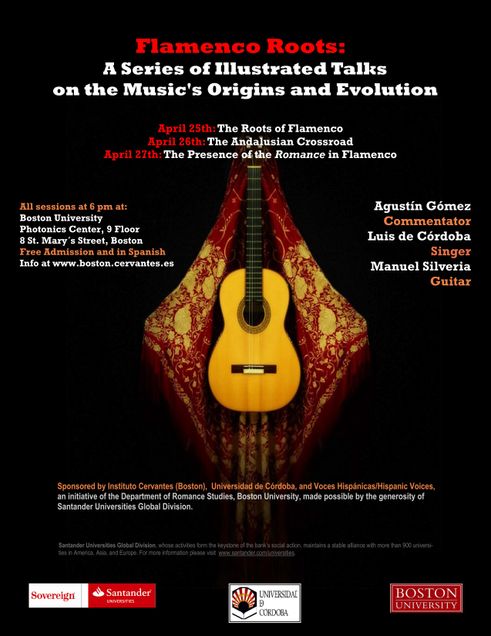 Traditional romances (ballads) serve us as a clear example of how flamenco has evolved over time. These romances have a long tradition in Andalusia, initially as a popular form of oral artistic expression, and have always occupied a very special place in flamenco singing. From the Middle Ages to the 21st century, romances have traveled to us through time, faithfully preserved in the songs of flamenco.
Recital: Romances in the style of El Negro ("About a nun"), Alonso el del Cepillo ("Olive pickers"), El Chozas ("Zaide and Celinda"), Luis de Córdoba (romances from his childhood); Antonio Mairena ("They've told us about great wars…"), María La Perrata ("The Moorish king had a son"), and Pepe Marchena ("To the rosemary flower").
Augustín Gómez, commentator
Luis de Córdoba, singer
Manuel Silveria, guitar
Sponsored by Instituto Cervantes (Boston), Universidad de Corboda, and Voces Hispanicas/Hispanic Voices, an initiative of the Department of Romance Studies at Boston University, made possible by the generosity of Santander Universities Global Division.
Free Admission and in Spanish. Details at www.boston.cervantes.es
When:  Monday, Apr 25, Tuesday, Apr 26, and Wednesday, Apr 27, 2011 at 6:00pm
Where: BU Photonics Center, 9th Floor