Executive Officer Biography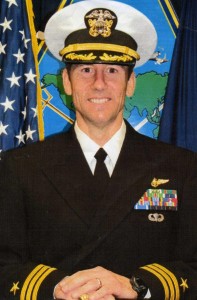 Commander Brian (Bat) Masterson, USN
Born in New Bedford, MA and raised in Naples, FL, CDR Brian Masterson graduated from the United States Naval Academy with a Bachelor of Science degree in Honors Economics in 1996 (GPA 3.29). He also attended the University of West Florida, earning a Master's degree in Business Administration (GPA 3.70).
After earning his "Wings of Gold", CDR Masterson reported to Patrol Squadron THIRTY (VP-30) for further training in the mighty P-3C Orion. He joined his first fleet squadron, Patrol Squadron TEN (VP-10) during the opening stages of the conflict in Kosovo. Deploying with the "Red Lancers" to the SIXTH Fleet area of operations, he flew armed SUCAP missions over the Adriatic region in support of Operations ALLIED FORCE and DETERMINED FORGE. During the same tour he deployed to the North Atlantic, conducting anti-submarine warfare operations, and to the Caribbean and South America, supporting counter-narcotics missions for Joint Inter-Agency Task Force-East (JIATF-E). For his final deployment during this tour, he returned to SIXTH Fleet in order to conduct reconnaissance missions across Europe and the Mediterranean in support of Operation JOINT GUARDIAN. He served as a P-3C Instructor Pilot, Mission Commander, and the squadron's Quality Assurance Officer.
Following initial shore duty, CDR Masterson returned to sea in USS Carl Vinson (CVN-70) and qualified Tactical Action Officer (TAO) and Air Warfare Officer during a Northern Arabian Gulf deployment in support of Operation IRAQI FREEDOM.
During his Department Head tour, he was assigned again to VP-10 for a SEVENTH Fleet deployment and another FIFTH Fleet deployment in support of Operation ENDURING FREEDOM. Additionally, he was the senior pilot during a surge detachment to SIXTH Fleet. While at VP-10, CDR Masterson was the squadron's Maintenance Officer and a senior Instructor Pilot.
CDR Masterson completed a second disassociated sea tour in USS Dwight D. Eisenhower (CVN-69) based out of Norfolk, VA, as the Combat Direction Center Officer (CDCO) and ship's Integrated Training Team Lead and deployed to the FIFTH Fleet Area of Responsibility (AOR).
Ashore, CDR Masterson served as NATOPS Officer for the T-34C and T-6A, and Standardization Pilot at Training Squadron TEN (VT-10) in Pensacola, FL. Following his Department Head tour, he was assigned to Commander, Patrol and Reconnaissance Group (CPRG) in Norfolk, VA as P-3, EP-3, and P-8 Current Readiness and Maintenance Officer and served as the first P-8 Maintenance Officer in the Maritime Patrol and Reconnaissance community's history.
Currently, CDR Masterson is assigned as the Executive Officer and faculty member at NROTC Boston Consortium (Tufts, Harvard, MIT, BU, BC, and Northeastern) where he teaches a course in Leadership and Management and facilitates the mentorship and professional development of over 100 future Navy and Marine Corps Officers.