Alumni
Hall of Fame
As we approach the 100th year of Army ROTC at Boston University, it is worth reflecting on a few of our Graduates who have made exceptionally valuable contributions to Our Nation.  The detachment displays these 8 portraits of Hall of Fame Graduates in the Pershing Room at 128 Bay State Road.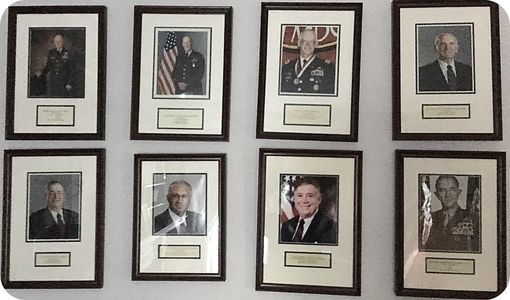 John George Couris, 1951 Boston University, Lieutenant Colonel (RA), Major General Massachusetts State Guard – WW II, Korea, Vietnam – Legion of Merit, Bronze Star w/Oak Leaf Cluster, Air Medal w/Two Oak Leaf Clusters
Early Life:  Born January 21, 1927 to John and Lena Couris and raised in the Boston area, calling 20 Maryland Street, Dorchester his home.
Military Journal (1):  His first military service was in 1943 as a Private in Troop D, 1st Motor Squadron (First Corps of Cadets), Mass State Guard. He chose to enter the United States Marine Corps where he served as a Private First Class (Pfc), Military Police, in World War II's Pacific Theater, overseas from September 15, 1945 to January 17, 1946.
Academic Experience:  He graduated from Boston University's College of Business Administration (Industrial Management) in 1951, where he completed the Army ROTC program.  He was active in The National Society of Scabbard and Blade (where he was wryly known for his "few words" at the Wednesday meetings), as well as acting as a Drill Sergeant and Captain of the Rifle Team (having earned the Sharpshooter qualification in July 1946 as a US Marine).  He received a commission as a Lieutenant of Infantry on June 15, 1951 with Headquarters IX Corps, 3rd Infantry Division.
Military Journal (2): Upon the breakout of the Korean War, he saw combat with the Third Infantry Division.  He chose to remain on Active Duty in October 1954 as a Regular Army Officer, with assignments at the Pentagon and as an Instructor at the Infantry School.  Then followed four tours of duty in the Far East during the Vietnam War, one as the Deputy Commander of an Infantry Brigade, interspersed with two tours of duty in Europe.  He also attained a Master's Degree from the University of Idaho and graduated from the Army's Command and General Staff College.  His military decorations included the Legion of Merit, the Bronze Star Medal with Oak Leaf Cluster, the Air Medal with Two Oak Leaf Clusters, and the Combat Infantryman Badge with Star.
Post-Military: He retired August of 1979, and subsequently entered the MA State Guard upon request of the Office of the Adjutant General of Massachusetts.  Concurrently he accepted an appointment as Assistant to the President of Century Bancorp of Medford MA.  He retired from both roles in 1992, but he continued to serve his community, including as a member of the National Council, Boy Scouts of America and as an extremely active alumnus of Boston University's Army R.O.T.C.  Couris was a member of the Walpole Country Club as well as the prestigious Union Club of Boston. He also served as President of the Association of the First Corps of Cadets.  He was buried in the National Cemetery at Camp Edwards on Cape Cod, Massachusetts in 1998.
(Notably, he donated the funds to replace the Hubbard-Lane Award upon the reopening of ROTC at Boston University in 1980.)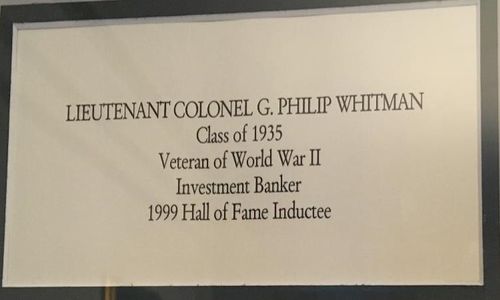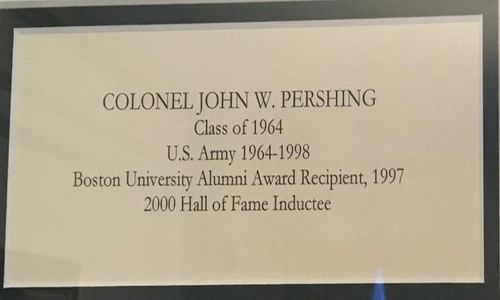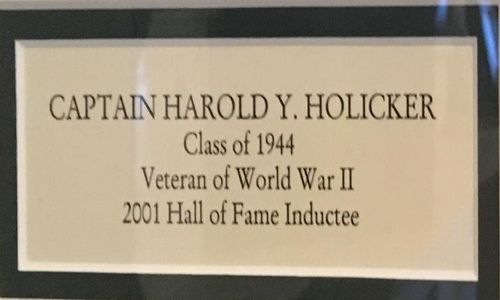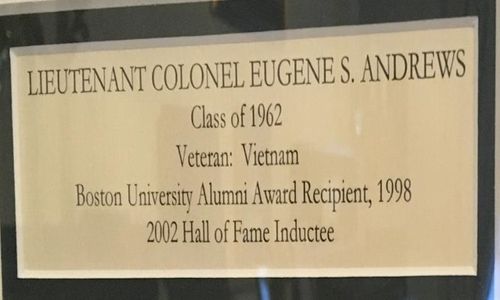 Their stories deserve to be told, and we are working together to give them the respect that they deserve, even as we prepare to announce our 2016 & 2017 Inductees.
Leadership Excellence – Demonstrated:  Hall of Excellence
Welcome to our Newly Inaugurated Hall of Excellence (under construction)
Many of our Alumni have earned our recognition.  This list recognizes those deemed to be among the top 10% of the thousands who have participated in Army ROTC through Boston University or other schools on the Charles River Battalion Team.  The list is organized by Class, with a brief description regarding their service.
1926 – MAJOR GENERAL RALPH A. PALLADINO / US Army Reserve – Distinguished Service Medal with Oak Leaf Cluster; Silver Star; Legion of Merit; Bronze Star Medal with Oak Leaf Cluster; European-African-Middle Eastern Campaign Medal with four Campaign Stars (Ardennes-Alsace, Northern France, Rhineland and Central Europe); Army of Occupation Medal with Germany Clasp; Armed Forces Reserve Medal with three Ten Year Devices; Croix de Guerre with Palm (France); Medal of Liberated France; War Cross (Czechoslovakia); Order of the War for the Fatherland (Second Class) (Soviet Union); Order Nationale de la Cousonne de Cherre (Luxembourg); Combat Infantryman Badge. Immigrated to the US from Italy and started military service at 14 with the Mansfield High School Cadet Company. Entered Boston University and became very active in sports, publications, Army ROTC and Scabbard & Blade. He commissioned as a reserve second lieutenant of Infantry in 1926, just a few months after attaching his US citizenship. Over the next 33 years he served in both active and reserve roles, rising from platoon leader to chief of Army Reserve and ROTC affairs and as a consultant to the Office of the Deputy Assistant Secretary of Defense for Reserve Affairs from 1968 to 1969. As commander of the 2d Battalion, 104th Infantry Regiment in 1942, his unit responded to rumors that the Germans had a secret installation on a nearby island, only to find the island deserted after making their amphibious landing. On 10 November 1944, soon after the unit began offensive operations in the European Theater, Lieutenant Colonel Palladino assumed command of the 104th Infantry Regiment when Colonel Dwight T. Colley received serious wounds near Morville-sur-Seille, France. Palladino led his regiment through combat in the Northern France, Ardennes, Rhineland, and Central Europe campaigns. Earning a Silver Star at the Battle of the Bulge, Lieutenant Colonel Palladino, Commanding Officer of the Regiment, drove up to the front line positions of his infantry units and, while under the heavy enemy fire, "successfully completed his reconnaissance, he called up a platoon of destroyers and personally placed them into firing positions some two hundred yards from the enemy lines." This enabled a well-planned infantry attack, launched early the following morning that overran and wiped out the enemy pocket. He left active duty in March 1946, returning to the 94th Infantry Division as its commander, rising to brigadier general on 26 April 1948 and to major general on 8 December 1954. He served as commanding general of the 94th until 1957. His final military duties included chief of Army Reserve and ROTC affairs retiring in May 1959. He served on the Reserve Force Policy Board and as a consultant to the Office of the Deputy Assistant Secretary of Defense for Reserve Affairs for another 10 years after his military retirement. He remained active in the community for many years, receiving much recognition; the Outstanding American of Italian Birth or Ancestry Gold Medal for 1958 from the Italian-American Charitable Society of Boston, Massachusetts, Boston University Distinguished Alumni Award in 1958, and the Reserve Officers Association him with the Distinguished Service Citation. Palladino showed great care and concern for his soldiers and communicated with many of them throughout his lifetime. Notably, his son, Donald Palladino graduated from the U.S. Military Academy at West Point, Class of 1958 and retired as a U.S. Army Brigadier General, receiving the Army Distinguished Service Medal and Legion of Merit during his service.
1934 – COLONEL RUSSELL SPINNEY – Silver Star European Theater of Operations.  "Capt. Russel G. Spinney of the Army led what two major generals called the 'finest action they had seen in war' retaking Hill 350 during the Battle of Mateur, North Africa.  He was a veteran of World War II from Quincy MA and later returned to Boston University, where he served as the Professor of Military Science from 1953 to 1958. The Spinney Study Center, a conference room in The Pershing House, is named in his honor.
1936 – COLONEL GEORGE JUSKALIAN – Silver Star w/Oakleaf Cluster, Legion of Merit, Bronze Star w/3 Oakleaf Clusters, Air Medal, Prisoner of War Medal.  During WWII he saw combat duties in North Africa where he was a prisoner of war for more than 27 months.  Battalion Commander in Korea 1952-1953.  Adviser to the Imperial Iranian Army in Tehran, 1957-1958.  Military adviser to the Vietnamese Army under combat conditions in 1963-1964.   He retired in 1967.  He devotedly served the Armenian community as well;  His Holiness Vazken I, Catholicos of All Armenians, awarded him the medal of St. Nerses Shnorhali in 1988.   The United States Postal Service Office located at 5003 Westfields Boulevard in Centreville is named the "Colonel George Juskalian Post Office Building" in his honor, and President Barack Obama signed this resolution as Public Law 111-367 on January 4, 2011.
1937 – CAPTAIN ROBERT H. LANDESS – Silver Star, Purple Heart.  Operation Torch in Northern Africa, WW II.  (KIA November 9, 1942.)  For the heroism that marked his death at Djebel Murdjadjo, the US Army placed his medal into the hands of little Ann Hamilton Landess, his six-week old daughter that he never had the occasion to meet.  This occasion was featured on page 32 of LIFE Magazine, April 12, 1943.
1940 – LIEUTENANT GENERAL JOHN WILLIAM O'NEILL / US Air Force – Distinguished Service Medal, Legion of Merit; Distinguished Flying Cross with oak leaf cluster; Air Medal with oak leaf cluster; Air Force Commendation Medal; Army Commendation Medal; and Japanese Order of the Rising Sun, Second Class.  B-29 crew, flying 285 combat hours based on Guam, becoming a squadron commander.  In 1946 he participated in the first peacetime atomic weapons tests at Bikini as an air operations officer and pilot of the command airplane.   In July 1964 he was transferred to L.G. Hanscom Field, Bedford, Mass., as Commander of the Electronic Systems Division, Air Force Systems Command (AFSC).   In July 1967 he assumed duties as Commander of the Space and Missile Systems Organization, AFSC, Los Angeles, CA.  General O'Neill assumed duties as vice commander, Air Force Systems Command, Andrews Air Force Base, MD, in September 1969.
1942 – CAPTAIN HENRY W. LEVASSEUR – Soldier's Medal.  While assigned to Company B, 149th Infantry Regiment, 38th Division, awarded the Soldier's Medal.  "For heroism near Burr Ferry , Texas, On October 17, 1942, during the Louisiana Maneuvers.  With disregard for his own personal safety, Lieutenant Levasseur, upon hearing cries for help from enlisted men who were in grave danger of drowning in the Sabine River, dived into the river and rescued an enlisted man of the 33rd Engineers (name unknown).  Quickly assuring himself that this man was not seriously injured Lieutenant Levasseur dived into the river to attempt the rescue of another man in distress.  The swift current carried Lieutenant Levasseur downstream where he became entangled in underwater snags and in so doing sustained injuries that caused him to be hospitalized. – H. L C. JONES, Major General, U. S. A." Subsequently attended amphibious and ranger training.
1944 – FIRST LIEUTENANT HEAL HUBBARD – Purple Heart, European Theater of Operations, Battle for the City of Metz, France.  (KIA October 18, 1944.)  Presumed to be with Company L, 11th Infantry Regiment.  Co-inspiration for the Hubbard-Lane Award, first presented to Cadet Joseph Fernandez of Charles River Battalion in the spring of 1947.
1944 – FIRST LIEUTENANT RICHARD LANE – Army Air Force, Air Medal w/ Oakleaf Cluster.  Pacific Theater of Operations, Japan.  (POW 07 August 1945, KIA 15 August 1945, Victory in Japan "VJ" Day.)  Navigator for B-25J-30 / 32 NC Mitchell (Serial # 44-31300) on the crew of 1st Lt. Robert G. Neal, of the 345th Bombardment Group, 498th Bombardment Squadron.  Took sufficient damage over Matsubase/Uki to be unresponsive on radio, subsequently making a forced landing in Kumamoto Prefecture with all 5 crew-members taken prisoner; subsequently executed.  Co-inspiration for the Hubbard-Lane Award, first presented to Cadet Joseph Fernandes of Charles River Battalion in the spring of 1947.
1950 – MAJOR FRANK HADDEN JR. – He began his military service as an enlisted soldier during World War II. Following the War, he commissioned into the United States Army in 1950 through Boston University ROTC. Major Hadden served in the Korean War later in the United States Army Reserve. He established a grant that allows senior cadets in the Boston University Army ROTC program to visit the Gettysburg National Battlefield every year as part of their professional development. The Hadden Lounge, a cadet lounge in The Pershing House, is named in his honor.
1953 – COLONEL LEE C. DICKSON – Vietnam.  Distinguished Service Medal, Legion of Merit w/3 Oak Leaf Clusters, Bronze Star Medal.  Highlights include Operations Officer & J4 of MACV, Vietnam, Assistant Professor of Military Science (URI), Commander 95th S&S Battalion, Germany, G4 Delta Regional Assistance Command Vietnam, Army Director of Club Management. Co-Author "Riverine Operations" Army Training Text 31-75 ('67) and Military Review article (8/67) "Army Forces in Riverine Operations. Associate Dean Emeritus for Florida International University's Chaplin School of Hospitality & Tourism Management.
1956 – FIRST LIEUTENANT ARMAND ARABIAN – ROTC Distinguished Military Graduate, Infantry Company Commander, Airborne, Jumpmaster and Pathfinder school graduate – Hon. Armand Arabian, served as a member of the Supreme Court of California from 1990 to 1996.   On the Supreme Court of California, Hon. Arabian authored 104 majority opinions, 17 concurring opinions, 6 concurring and dissenting opinions and 16 dissents.  In 1980, Hon. Arabian created the sexual assault victim counselor privilege now embodied in the California Evidence Code and adopted by 18 other states.  Hon. Arabian currently serves as an Adjunct Professor of Pepperdine University School of Law.  Arabian was the first alumnus of Boston University School of law to be appointed to the California Supreme Court.  Known to some as "Saint Armand," Justice Arabian is a nationally recognized leader in the reform of rape laws.  While a student at BU, he was named President of the Student Bar Association, Class President, and First National Chairman of the American Law Student Association Medico-Legal Committee.  In 1981, Justice Arabian received Boston University School of Law's highest alumni recognition, the Silver Shingle Award for Distinguished Service to the Legal Profession, and in 1990, he received the Distinguished Alumni Award from Boston University.  In 2011, Arabian was honored with the Lifetime Achievement Award of the San Fernando Valley Bar Association's Community Legal Foundation.
1980 – MAJOR KELLY M. FITZPATRICK – Korea (Armistice period).  Southwest Asia Service Medal, Office of the Secretary of Defense Exceptional Civilian Service Medal, Secretary of Defense Meritorious Civilian Service Award.  From 1980-1996 served in Adjutant General and Public Affairs Officer assignments. BU magna cum laude, and 2nd woman to be CDT BN Commander as cross-enrollee in Northeastern University Army ROTC during BU Army ROTC hiatus. Commander 502nd PS Co. 2nd AD Ft. Hood, MA philosophy, Associate Professor USMA West Point, Adjutant General 19th TSC Korea, PAO 24th ID (Mech) Ft. Stewart GA. JD at MD Carey School of Law, Presidential Management Fellowship, Legislative Affairs DIA & Senior Executive Leadership, Office of Senator Jeff Merkley.
(A few of our Alumni profiles are on the US Army ROTC webpage as well:  https://www.goarmy.com/rotc/schools/boston-university/alumni.html )