Faculty and Staff
Learn Leadership from the Best Leaders. The Army ROTC program is only as strong as its instructors. That's why we provide such highly qualified faculty and staff for Cadets. See the kind of varied and interesting experiences instructors have had that make them the best ROTC faculty and staff.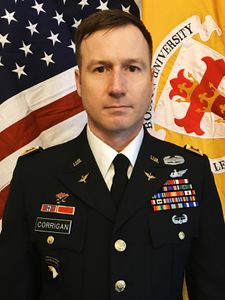 LTC Chad Corrigan
Professor of Military Science
Lieutenant Colonel Chad Corrigan originally hails from Dighton, Massachusetts. A graduate of Stonehill College, he earned his commission through the Charles River Battalion at Boston University in 2000. He has since served in numerous key leadership and staff positions to include Platoon Leader, Troop Commander, and Brigade Operations Officer. He has numerous overseas assignments including multiple tours in Iraq and Afghanistan. LTC Corrigan has a Masters of Public Policy and Management from the University of Pittsburgh, a Masters of Military Arts and Science from the Command and General Staff College and is a graduate of the School of Advanced Military Studies at Fort Leavenworth.
MAJ Alexander Hampton
Battalion Executive Officer
Assistant Professor of Military Science
Major Alexander Hampton is an Infantry Officer and member of the Massachusetts Army National Guard.  He started with the Charles River Battalion, Boston University Army ROTC, as an Assistant Professor of Military Science in the summer of 2017.  Major Hampton is the battalion Executive Officer responsible for coordinating human resources, operations, and logistics for the battalion to produce competent, confident future Army officers of character.
MSG Brock Noah
Senior Military Instructor
MSG Brock Noah is an active duty Non-Commissioned Officer with the Engineer Branch.  Throughout his career he has served in every leadership position from Team Leader, Squad Leader, Section Sergeant and Platoon Sergeant.  As the Senior Military Instructor, he is the Senior Enlisted Advisor to the Professor of Military Science.