West Campus
Mike Sirera
Assistant Director of Residence Life for West Campus
p. 617-353-3902
msirera@bu.edu
I hail from the steel city, Pittsburgh, Pennsylvania.  Beginning in my childhood, I have embraced the long-standing Pittsburgh tradition of putting french fries on everything.  Don't believe me?  Until my junior year, I had no idea that it wasn't a normal thing everywhere to put french fries on salads.  I attended the University of Pittsburgh to earn my BS in Neuroscience in 2008,  and went on to get my MA in Higher Education Administration from Boston College in 2010 (please stop booing).  After graduating from Boston College, I made the decision to stay in Boston and move on down Commonwealth Avenue to Boston University.  On an average day, you can find me eating, watching movies, eating, playing pool, eating, playing basketball or volleyball, oh… and did I mention eating??
Corey Evans
Residence Hall Director, Claflin Hall
p. 617-353-3892
ceboston@bu.edu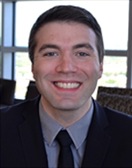 I have had the honor of experiencing an entire spectrum of roles here at Boston University: from student (I lived in Warren Towers my Freshman year)… to Resident Assistant… to Administrative Secretary in the 575 Commonwealth Avenue Residence Life office… and finally to Residence Hall Director at Claflin Hall.  Additionally, from 2011 to 2013, I also worked as a Residence Life Coordinator at The New England Institute of Art, while also screenwriting for an upcoming indie series set in Allston.  College illuminated the direction of my life, and I am extraordinarily fortunate to be able to work as a guide to students on their way to their own personal discoveries.  I'm currently enrolled in the Master's Program in Higher Education Administration at The School of Education.  Find me in the dining hall – I love chatting about movies!
Cobretti Williams
Residence Hall Director, Sleeper Hall
p. 617-353-3902
cobretti@bu.edu
Hey Y'all! I was born and raised in the great beach town of Fort Walton Beach, FL. I received my BS in Finance from Florida State University and my MA in Student Development Administration from Seattle University. In the past five years, I have been fortunate to work, live, and learn in a variety of states including Florida, New York, and Washington. While I grew up in a small town, my affinity for large cities has grown and I am now happy to call BU and the greater Boston area my home. I love to eat and explore, so chances are you can find me at your local eatery or aimlessly wandering on the MBTA. I also enjoy music, travel, and hot yoga in my spare time. If you ever want to chat, my door is open!
Vacant
Residence Hall Director, Rich Hall
p. 617-353-3912