West Campus
Donna Rogalski
Assistant Director of Residence Life for West Campus
p. 617-353-3902
rogalski@bu.edu
I came to Boston University in January 2007. For some reason, I keep heading north. Originally from New Jersey, where the Jersey Shore is nothing like what you see on TV, I made my way to the University of Connecticut for my bachelor's and master's degrees. After a short stint working in Connecticut for an after-school program, I continued north and worked in the south shore area of Massachusetts in residence life at Bridgewater State College. Now in Boston, I swear I will go no further north than here. I enjoy the great restaurants Boston has to offer, as well as taking numerous photos of the city's historical sites. In my spare time I like to cook and pick up new hobbies, but admit that I'm not the best at sticking with them. You'll often find me reading in the dining hall at West Campus or sitting outside enjoying the sunshine.
Corey Evans
Residence Hall Director, Claflin Hall
p. 617-353-3892
ceboston@bu.edu
Jason Grochowalski
Residence Hall Director, Sleeper Hall
p. 617-353-3902
jgroch@bu.edu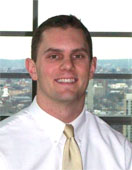 I came to Boston University after spending close to two years in the state of South Carolina working as a Residence Life and Student Conduct Coordinator. I grew up in western Massachusetts, attended UMass Amherst for my Bachelor's and Master's degrees and spent time working for Duke University and Newberry College (in South Carolina). I love spending time with family, being active (hiking/mountain biking/golfing/skiing/ice fishing/etc.), and I'm a huge San Francisco 49ers fan! Here are some things you might not know about me: I have four older brothers; I earned the highest GPA on my college football team as well as All Academic honors; I have a weakness for cookies; I donate blood regularly; I got a hole-in-one in golf; I do crossfit and for those of you in-the-know, I completed a Spartan Beast Race (12+ mile obstacle course) last year. I'm here to ensure that you have the best experience possible. I'm always very invested in my students and I will be here to continually challenge and support you. My door is always open, come by anytime!
Mike Sirera
Residence Hall Director, Rich Hall
p. 617-353-3912
msirera@bu.edu
I hail from the city of steel, Pittsburgh, Pennsylvania. Beginning in my childhood, I have embraced the long-standing Pittsburgh tradition of putting french fries on everything. Don't believe me? Until my junior year, I had no idea that it wasn't a normal thing everywhere to put french fries on salads. I attended the University of Pittsburgh to earn my BS in Neuroscience in 2008, but decided to pursue a different career path after graduation. I earned my MA in Higher Education Administration from Boston College in 2010 (please stop booing). After graduating from Boston College, I made the decision to stay in Boston and move on down Commonwealth Avenue to Boston University. When I am not working, you are most likely to find me eating food at Victoria's and Super 88, playing volleyball, or singing my heart out at noraebang (Korean karaoke).