Upper Bay State Road
Paul Hughes
Assistant Director of Residence Life for Upper Bay State Road
p. 617-358-3100
hughesp@bu.edu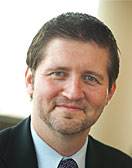 I was born and raised in Brockton, MA, "City of Champions." I attended Brockton High School and was voted "Most Likely to Host a Talk Show." After high school, I attended Stonehill College and received a BA in Communication. In 2004, I received my MA in Higher Education Administration from NYU. I joined the Residence Life team at Boston University in the fall of 2005 and have served as the Residence Hall Director at Myles Standish Hall and Warren Towers. I enjoy working and living on campus. I can be found having breakfast, lunch, or dinner in one of the dining halls, playing a round of squash at the Fitness & Recreation Center, or taking a leisurely stroll along Commonwealth Avenue. I consider fall move-in, traveling on an Alternative Spring Break trip, and Commencement among some of the highlights of the academic year.
Tim Hegan
Area Director, 575 Commonwealth Ave. Residences
p. 617-358-3100
timhegan@bu.edu
I grew up on the North Shore of Boston in Swampscott and my mom still lives in the home that I was raised in. I received my BS in Psychology and Criminal Justice from Salem State College in 1992. My student affairs professional career is about 10 years in the making, and I have worked a good part of the last 30 years in counseling, mental health, teaching, and job development. I have an open-door policy in my office and welcome students to visit. For the past four years, I have opened my home for visitors of the BU community each Sunday evening from 6 to 8 p.m. I serve refreshments and home-baked desserts to give the student community a place to relax and have light conversation. In my spare time, I enjoy reading, taking care of plants and animals, going on exploratory road trips, traveling, and cooking. I am interested in earning my MA in Education from the BU School of Education and have been taking classes within the Higher Education Administration program. I look forward to meeting you, seeing you, and assisting you here in Residence Life!
Vaishakhi Desai
Residence Hall Director, The Towers and Fisk House
p. 617-353-3872
vdesai@bu.edu
I was born in India, but moved to Toronto, Canada in my childhood years. After living there for over 6 years, I moved down to Johns Creek, Georgia. I received my Bachelors of Science in Chemistry from Kennesaw State University, only to realize my true passion was higher education. I went to University of West Georgia to receive my Master of Education in Professional Counseling with a concentration in College Student Affairs. I enjoy traveling, meeting new people, dining, and of course, shopping!
Hilary Caron
Area Director, Bay State Road Residences
p. 617-353-3872
hcaron@bu.edu
I came to Boston University from Emmanuel College, where I worked as a Residence Director for two years. I was born in Danvers, Massachusetts, but lived in Florida for most of my life. I discovered my flair for the dramatic and received my Bachelor of Arts in Theatre Studies from the University of Central Florida, and then attended Bowling Green State University for my Master of Arts in College Student Personnel. I love theater, chocolate, Netflix, shoes, and 1980s dance parties. In addition, I love to bake and make the world's best banana bread.