RA Appreciation Week
David Zamojski
I'm glad we're taking the week to celebrate you and all you do! It's a privilege to be associated with such a dynamic team of student leaders. You represent Residence Life exceedingly well. Each interaction you have with a student demonstrates the kind of organization we are, and I thank you for your dedication, your courage, your patience, your tenacity, and especially for the care you show our residents. Happy RA Appreciation Week. May you feel appreciated this week and every week.
Daryl Healea
Cheers to the RAs! You are the glue that helps to hold this campus together and I am deeply thankful of your time, your efforts, and–most importantly–your willingness to care for your residents. Your job is by no means easy. Indeed, I know it is often inconvenient, but your willingness to work and get the job done is highly appreciated. Thank you, Happy RA Appreciation Week, and best wishes for the remainder of your academic year!

Corey Evans
I praise Resident Assistants in the same fashion that some people might praise a breakfast of pancakes and bacon: they are profoundly awesome in ways that the human mind can scarcely comprehend.  They bring an element of human connection to a massive university that is nestled inside of what can be an intimidating city, all while balancing full student schedules and 24 hour work days.  I am proud and humbled at the opportunity to work with them each day.

Hilary Caron (photographed with David Zamojski)

I really appreciate how positive and energetic the RAs are. They make me love coming to work every day. They are all cup winners in my mind!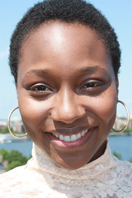 Cherita Cloy
I admire the RAs for assisting students even though they have many commitments of their own – school, friends/family, clubs, etc. I rest easy at night know that the RAs are here.
Paul Hughes
I appreciate and admire the way S/RAs balance their lives!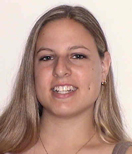 Leorah Burnstein
The RAs have made working here more enjoyable because they are always friendly and say hello when they come into the office.
Karen Jacobs
RAs are caring, smart, supportive individuals who are positive and valuable contributors to the residence life experience for students. RAs improve my ability to be a successful Faculty-In-Residence by supporting and participating my residence life activities. I am enriched as a person by having the opportunity to work with the RAs at Boston University.
Gina Regonini
I love RA's because of their endless energy and dedication to making sure BU students make the most of their time here! It is a hard job that they make look easy. In particular, I love seeing the giant crowds of people streaming into Programming Council's Drive-In Movie every fall…that would never happen if it weren't for the RA's! I was also instantly in love when I heard an entire floor went to BU Central's BU for Show to see their floormate perform…love it!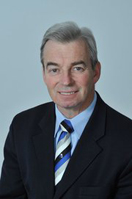 Jack Weldon
Thank you RAs for all you do every day for your residents. Your considerable efforts create a floor or small hall community where students do more than simply survive—they thrive. Your hard work is recognized and very much appreciated by all of us in the Dean of Student's Office. Thank you, thank you!
Margaret Ross
Behavioral Medicine could not do its work on campus without the RA's. They are an invaluable part of the team, ensuring safety for every student in the community. We are always so impressed by the dedication, maturity and commitment they bring to this challenging and complex role, and grateful for their help. Please accept our humble and heartfelt thanks.
Yvette Lancaster
I truly value the time I am able to spend with S/RAs no matter the reason that draws us together. I'm continuously impressed with the enthusiasm and dedication they give to their RA jobs as well as their genuine interest in helping students succeed at BU. I honestly couldn't imagine a better group of people to work with. S/RAs make my work worthwhile. Thank you for all that you do.
Orientation
Thanks for all that you do to make the BU Community stronger. We appreciate it more than you know.
Rock on.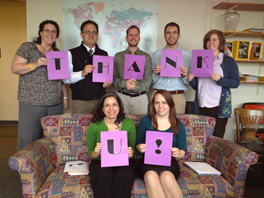 Educational Resource Center
All of us at the Educational Resource Center sincerely appreciate the Resident Assistants' efforts in ensuring their students have the best experience possible at BU. Resident Assistants are valuable in that they spread the word about the various academic support services that are available on campus. We thank you for your energy and dedication; keep up the good work!
Judicial Affairs
Hey RAs, Judicial Affairs thinks you cats are groovy!

Sue Berger
It is hard to write just a few sentences of thanks to a group of individuals who do SO many important and kind things. From engaging students in great events, to listening to student's struggles, to befriending the friendless, to getting very little sleep during some on-call nights and not complaining, you are an amazingly talented, kind, and committed group of individuals. I feel so lucky to be a part of the Warren Tower's Residence Life Community.
Norm Blanchard
To the untrained eye, BU can seem like a very big place, and in some ways it is. However, when you dig in and get to know BU, you realize that it is in fact hundreds of small, tight-knit communities coming together to form a greater whole. Our RA's play such an important role in forging and maintaining these communities. They are so important in the life of this university."
Steve Jarvi
Resident Assistants are the ultimate peer advisors and invaluable components of the web of support that surround BU students. They connect with students in ways that are simply not possible for administrators like me.
Bob Hill
The RA's at BU are some of the best people anywhere. They survive on hardly any sleep. They are kind and caring with students, faculty, staff, and administration. They work in fruitful partnership with offices like ours at Religious Life. They are great people!
Brandon White
RAs, I can't thank you enough for the work that you do. What an excellent opportunity to work with such a wide variety of people, impact lives, and have some fun while doing it! It goes without saying that you are such an important aspect of Residence Life and BU's greater community, keep up the good work!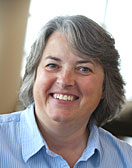 Pauline Gauthier
I appreciate the RAs and SRAs for their commitment, care, enthusiasm and energy. They are committed to their studies and their students, they care about their communities, and they have the enthusiasm and energy to go the extra mile for their residents and colleagues. I also appreciate the S/RA staff for their ability to learn from each other and teach each other along the way. I am grateful for what I learn working with S/RAs every day. Thank you all for your efforts to make our communities homes away from home for our students!
Ben Champney
Thank you for all that you do to help make residence halls feel like a home away from home for your residents.
Bryan Stone
Hallelujah for RA's. Not only do they make living in the dorms tolerable for a faculty in residence like myself, they make it a treat. My wife and I love it when RA's come by our apartment, and we often wish we could spend even more time with them. I appreciate their ability to listen, care, and support community in the dorms, and I also appreciate their capacity to be the sturdy rocks when problems arise. I admire you all greatly!
Jenn Battaglino
From all of us here at Shelton Hall Residences, we want to send a huge thank you to all of the RAs. We appreciate your dedication and commitment to Boston University, Residence Life and the student residents. Your hard work helps create a safe environment and a home away from home for all who live on campus. Thank you for all that you do. You are TREMENDOUS!
Cheryl Micozzi
I appreciate the RAs for their positive attitudes every time they come into the office They are always willing to help or cover a shift if asked. They deserve more appreciation for a thankless (at times) job, so "THANK YOU" RAs you are very much appreciated!
Mary Wong
To all the wonderful RAs that make my job easier and fun. Thank you for all your hard work.
Jess Colwell
Thank you to the wonderful RAs of Warren Towers. Each of you continually helps first year students find their way and your efforts help shape residents into who they will be after they leave Boston University. Your conversations, floor events and meetings have an immeasurable and priceless impact on our students!
Wendy Jennings
An RA is someone you can go to, day or night, early or late, and know that he/she is going to give you the best care possible. In difficult moments they can be like a BIG hug from home. So hug your awesome RA today!
Danielle Durante
When I was a Boston University student, I had no idea how much time and effort RAs put in to their work. After supervising RAs for over four years, I truly understand the commitment and dedication that they invest in their job. I admire their leadership, ability to handle difficult situations, and their willingness to assist other BU students even when they are overwhelmed in their own personal lives.
Donna Rogalski
The West Campus RAs are true Rock Stars! They are dedicated to their work for students and they're committed to their team. Seeing them in action makes me so proud to be a part of their lives as student leaders on this campus
Denise Mooney
Thank you, RAs, for encouraging your freshmen to participate in the MAP-Works survey! It couldn't have been easy to add another task to your many responsibilities, but your support was critically important to the effort's success. The data collected will assist efforts to understand and improve upon the experience of our freshmen. Thanks so much for your help with the MAP-Works project, and for your hard work throughout the year on behalf of BU's on-campus residents.
Doug Kriner
One of the best things about being a faculty in residence is the opportunity to hang out with and get to know the fantastic RAs at Myles Standish Hall. My wife Jill and I are so appreciative of all that they do to make a difference in the BU community and to make Myles such a great place to live. Thank you guys!
Roy Grundmann
The RAs are the foundation of the FIR Program, particularly in Warren Towers, where mediation between faculty and students is crucial, because everyone is still a bit wide-eyed and bewildered by the new environment. Warren Towers has the most amazing team of RAs. They rock!