West Campus
Hilary Caron
Assistant Director for Residence Life at West Campus
p. 617-353-3902
hcaron@bu.edu
I was born in Danvers, Massachusetts, but grew up in the bustling metropolis of Hudson, Florida. I received my Bachelor of Arts in Theatre from the University of Central Florida, and then earned my Master of Arts in College Student Personnel from Bowling Green State University. Prior to working at Boston University, I worked in Residence Life at Heidelberg University and Emmanuel College. I enjoy working out, watching live shows in Boston, singing along to 90's pop music, improv, and shopping. I bake the world's best banana bread, love all things sparkly, Netflix, anything chocolate, and telling stories! I'm on a quest for the best pizza and best steak in Boston, so I am open to suggestions! The best part of my job is connecting with students, so feel free to stop by my office to and say hi!
Corey Evans
Residence Hall Director, Claflin Hall
p. 617-353-3892
ceboston@bu.edu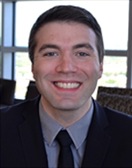 I have had the honor of experiencing an entire spectrum of roles here at Boston University: from student (I lived in Warren Towers my freshman year)… to Resident Assistant… to Administrative Secretary in the 575 Commonwealth Avenue Residence Life office… and finally to Residence Hall Director at Claflin Hall.  Additionally, from 2011 to 2013, I also worked as a Residence Life Coordinator at The New England Institute of Art, while also screenwriting for an upcoming indie series set in Allston.  College illuminated the direction of my life, and I am extraordinarily fortunate to be able to work as a guide to students on their way to their own personal discoveries.  I just completed the Master's Program in higher education administration at The School of Education.  Find me in the dining hall – I love chatting about movies!
Chelsea Reid 
Residence Hall Director, Sleeper Hall
p. 617-353-3902
careid@bu.edu
Born a New Yorker, there are few things that call to my heart and soul like the hustle of the city, good movies and a great bagel (*with lox and schmear). I have lived in the sandy suburbs of Delaware, where I attended Delaware State University and earned my B.S. in Communications, but I couldn't stay away from a city for too long. I came to Boston University in the summer of 2014, where I completed and earned an M.A. in Public Relations. Boston has stolen my heart in a way I did not expect and I have found few things more beautiful than this city's sunsets. I feel at home both in the city and at the sea, so swimming, boating and the beach are all things that make me inexplicably happy. Since my foray in higher education, I have found my passion in student affairs, pluralistic and diverse communities, and identity development. As topics that I feel are applicable to any person in a collegiate setting, I love talking and learning with people about these and any other things that may come to mind. I love meeting new people, trying new things (and foods!) and exploring new places. Let's make every experience an adventure!
Zara Azadzoi
Residence Hall Director, Rich Hall
p. 617-353-3912
znizami@bu.edu
I was born in India and moved to the United States with my parents when I was a little girl. I grew up in Lowell, MA and went on to receive a BS in business from Bay Path College. I was an RA during my time at Bay Path and fell in love with the work. I then went on to work at Mount Holyoke College for two years. I recently received a Master's of Education in higher education administration. I came to Boston University in December 2013 after having spent 6 years in Western Massachusetts and am happy to be living in the city. I love getting lost in a great book, eating good food with good people, and traveling. If you see me around campus, I will more than likely be holding a cup of coffee. Interacting with students is the best part of living in Rich so feel free to come up to me for a chat!