Central Office
David Zamojski
Assistant Dean of Students and Director of Residence Life
p. 617-353-4380
zamojski@bu.edu
As Assistant Dean of Students, I serve on the Dean of Students' leadership team for the Division of Student Affairs; my specific responsibilities include oversight of Residence Life, University Orientation for new students, student affairs staff training and development, and various projects for the Dean of Students.
As Director of Residence Life, I provide leadership and direction to an 11,500-student, 150-building program, with 27 full-time live-in professionals, 15 faculty-in-residence, 18 clerical staff members, and 285 resident assistants.  Boston University's housing system is one of the largest among private universities in the United States.
My involvement in NASPA, an international association of student affairs administrators in higher education, includes a recent term on its Board of Directors as National Director of Knowledge Communities, and a current term on the Board as Director of Region I, which includes the New England states and several Canadian provinces and European nations.
On campus, I advise I Embrace You (formerly Hug Don't Hate), a student organization whose members perform random acts of kindness and offer free hugs on Friday afternoons on Commonwealth Avenue near Marsh Chapel.  I have been awarded the University's Honorary Scarlet Key Award for extraordinary involvement in student activities and organizations, and am an honorary inductee in Boston University's chapter of the National Society of Collegiate Scholars.
I earned my Bachelor of Science and Master of Science degrees from Syracuse University.
Kenn Douglass
Senior Associate Director of Residence Life
p. 617-353-4380
jeanluc7@bu.edu
I was born in the Caribbean and attended high school in Washington D.C.  (I am actually very knowledgeable about the district "Chocolate City" and can be a great guide).  I attended Cornell University where I received both my undergraduate and graduate degrees from the College of Agriculture and Life Sciences.  After leaving Cornell, I joined the Residence Life staff at Boston University and have served as a Residence Hall Director at Warren Towers, an Area Director for Warren Towers, South Campus and West Campus Residences, and the Assistant Director of Residence Life for Administration.  I enjoy working with students and living in Boston on campus.  I can be found attending events on campus, in certain bookstores trying to enhance my book collection, and volunteering with elders in the greater Boston area, especially during the holidays.
Woodrow Freese
Associate Director of Residence Life for Administration
p. 617-353-4380
wrfreese@bu.edu
A native of upstate NY, I came to Boston University by way of the University of Pittsburgh's Semester at Sea program, where I served as Associate Director of Operations (and was very grateful for the opportunity to have traveled to 48 countries). Prior to the college administration gig, I taught elementary special education in upstate New York for almost 10 years. A graduate of SUNY Plattsburgh and the University of Arizona – I miss the desert very much! When not creating a safe/secure environment for BU students, I can be found splitting my free time between my beautiful daughter, Keegan and training for long-course triathlons.
Daryl Healea, Ed.D.
Associate Director of Residence Life for Student and Staff Development
p. 617-353-3540
dhealea@bu.edu
I grew up in South Florida where the palm trees danced in the sea breeze and where I always seemed to have enough free time to go fishing. Years later, I fell in love with the ideals of the collegiate way–the conviction that an integration of academic instruction with student development can be profoundly formative for young adults, enabling them to learn and mature as whole persons who can better society.
I have attempted to realize these ideals in my oversight of Residential Education where I direct programs and services that cultivate the intellectual, personal, and social growth of students amid their residency on campus. I coordinate leadership recruitment, selection, and training for over 300 employees, and I also direct the Faculty-in-Residence program. I spearhead assessment initiatives for the department, and I seek to promote equity, diversity, and inclusion across all levels of our work.
I also serve as a Lecturer for the Higher Education Administration program where I teach courses on the theory and practice of Student Affairs, campus ecology, and the history of higher education. I have published scholarly articles on character education, competency evaluation, multicultural organizational development, religion, and student-faculty interactions. In the near future, I hope to publish my first book, Daniel L. Marsh and the Spectacular Development of Boston University.
When not working, writing, or dreaming about fishing, I can be found running around Boston and spending precious time with my wife and two children.
Gerry Falcon
Fiscal and Operations Administrator
p. 617-353-4380
gfalcon@bu.edu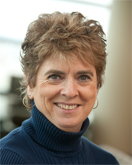 I was born and raised in North Adams, part of the beautiful Berkshire County, where I worked as an internal auditor at a local bank.  In the early 1980's our family relocated to Hadley, MA where for 6 years I worked as a paralegal for a law firm in Northampton.  In  February, 1993, my late husband and I joined the staff at Boston University—he as the Director of Custodial Services and I as the assistant to the Clinical Education Professors for the Physical Therapy Department at Sargent College.  On June 1, 2011, I began my 14th year as the Fiscal and Operations Administrator for Residence Life where I manage the department's budget.  As part of the central Residence Life staff, my role involves primarily fiscal interaction with the Administrative Secretaries, Area and Residence Hall Directors, and Assistant Directors, which includes ensuring that all of the Residence Life staff, including the student employees, are paid.
As much as I love taking advantage of all that the great city of Boston has to offer with its museums, shows and winning sports teams, at the end of the day I look forward to heading to the beautiful little town of Sutton which is currently home for me.
Jonathan Moy
Administrative Assistant
p. 617-353-4380
moy@bu.edu
I was born and raised in Boston, Massachusetts. I went to high school on Commonwealth Ave. at the MATCH School. After high school, I attended the College of the Holy Cross for a year and then transferred to Boston College and earned my Bachelor of Arts in Economics with a minor in Chinese in 2013. After my freshman year of college, I traveled to the Republic of China to teach English to under-served elementary school children in Taipei. During my time at BC, I was a Safety Escort for BCPD. The summer before working at Residence Life, I completed the Spartan Trifecta. I am a fitness junkie, so you will likely find me at FitRec, CrossFit, or yoga after work. Besides my interest in fitness, I am a huge tech nerd who watches too many movies and too much television.