Poetry
Evolving Scholars
By Jean Hennelly Keith
Sonnets, or "little songs," from the Italian sonneto, have only 14 lines, but, as a group of young Boston Scholars discovered over the summer, they can be powerful. For starters, at their BU orientation program in June, poet Meg Tyler read to them Shakespeare's "Shall I compare thee to a summer's day?" (Sonnet 18) and she saw their faces brighten. "They just loved it," she says. "The sonnet is such an approachable form."
Each year, topnotch Boston high school students are awarded full-tuition, four-year scholarships to attend the University. In preparation for their matriculation this fall, the newest Boston Scholars explored the many aspects of evolution, from the development of political institutions to the implications of Darwin's theories.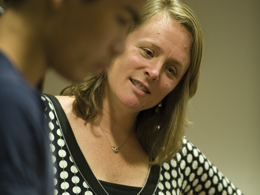 Tyler, an assistant professor of humanities at the College of General Studies, highlighted the evolution of lyric poetry over 600 years, from Petrarch to Seamus Heaney. After sampling sonnets by the masters, the new students eagerly wrote some of their own—"some comic, some love, and some very passionate," says their gratified teacher.
Tyler's research interests include the history of lyric poetry. With funding from the BU Humanities Foundation, she is completing work on her upcoming book, Broken Sonnets, on contemporary British, Irish, and American poets, including Heaney, Geoffrey Hill, and Alice Oswald.
Along with poet and translator Rosanna Warren, Tyler founded a poetry reading series on campus, free and open to the public, which generates excitement for contemporary poets and gives a human voice to the words on the page. The series begins this fall with a reading by David Ferry from his forthcoming translation of Vergil's Aeneid.