Poetry
Folio Forensics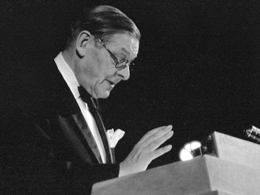 Poetry is the literature of highest aspiration—that much is clear from the very words. "Poetic is good and prosaic is bad," says Christopher Ricks, the William M. and Sara B. Warren Professor of Humanities and co-director of the Editorial Institute at Boston University, adding that he regrets the slight habitually made to great prose. So it matters when a great poet—or prose writer—changes, excises, or adds a word.
It falls to textual scholars like Ricks to investigate why, for instance, T. S. Eliot made a change after publication to the poem "Morning at the Window," altering the lines, "I am aware of the damp souls of housemaids / Hanging despondently at area gates" to read, "I am aware of the damp souls of housemaids / Sprouting despondently at area gates." What possessed Eliot to make such a change? After all, says Ricks, he was not an endless reviser of his own work after publication, like Walt Whitman or Robert Lowell, who often made numerous changes then.
It takes knowledge of a poet's entire body of work, as well as the literary influences on him or her, to come up with explanations. To draw an analogy, a cartoon in the satirical British newspaper Private Eye where a computer screen reads, "Call me E-mail," asks that you be familiar with the opening line of Moby Dick—"Call me Ishmael"—to understand exactly what the cartoonist is doing. A good editor guides the reader through such alterations and allusions.
"You narrow your eyes and you see more of less."
"An editor is someone who comes along and tells you what will help you to see the point," says Ricks, who is in the fifth and final year of his term as the Professor of Poetry at Oxford University. Editing a poem from handwritten drafts or deciding whether to restore excised words in a subsequent publication is a job for only the most careful and exacting scholar, one who is prepared to weigh the merits of even very minor changes between differing versions of a text.
At the Editorial Institute, Ricks and Co-director Archie Burnett are engaged in two very ambitious editorial undertakings. Ricks is editing the complete poems of T. S. Eliot, while Burnett is at work on an edition of the complete poems of Philip Larkin. At the same time, they are teaching graduate students and postgraduate fellows to apply the highest standards of textual scholarship to other writers.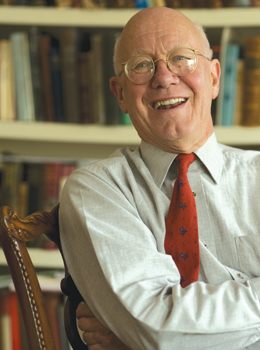 The institute was co-founded in 2000 by Ricks and University Professor Emeritus of English Literature and Religion Geoffrey Hill, whose own poetry has earned him a reputation as the greatest lyrical poet since Yeats. While a handful of institutions, including the University of Virginia and the University of Washington at Seattle, offer courses in editorial scholarship, BU's institute is unique on the American academic landscape in offering a full, degree-granting program in editorial studies at both the master's and doctoral levels.
Editorial work is rigorous, requiring immense attention to detail—as Ricks says, making the concession that even the best editing is not everything, "You narrow your eyes and you see more of less." It is time-consuming too, with critical editions often years or even decades in the making. But the results of these painstaking efforts typically endure. While novels and even literary criticism can become passé, Burnett says, "A big scholarly edition never goes out of style." And by bringing to light revelations about an author's influences and process of revision, critical editions can change the world's perception of that writer.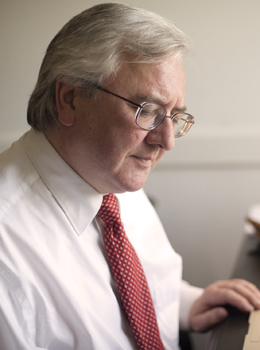 Last year, Burnett published The Letters of A. E. Housman, a British poet, critic, and classical scholar, who was himself a keen editor. Burnett's scholarly edition contains more than 2,200 letters—four to five times as many as any previous compilation of Housman's correspondence. He spent 14 years tracking down and editing the letters, as well as reading all the books in Housman's library and noting where he made markings in the margins. "I don't tell you what to make of an allusion or echo, I just tell you what the allusion or echo is," says Burnett. "I've done my editorial job when I give you the information I think you should have. It's all strictly explanatory."
Now Burnett has turned his attention to Philip Larkin, arguably the most popular British poet of the last half of the 20th century. An earlier collection of his work, published in 1988, had a print run of 50,000 copies—almost unheard of for a book of poems. Larkin, who passed away in 1982, was a librarian at the University of Hull in England, where Burnett conducted research last summer.
Ricks, too, has an extensive résumé as an editor of poetry, including 1997's highly regarded Inventions of the March Hare, a critical edition of unpublished poems by T. S. Eliot. But he credits his work on The Poems of Tennyson with having impressed Valerie Eliot, the poet's widow, enough for her to grant permission for a long-awaited full critical edition of her husband's poetry. Approaching Ricks after a lecture, she told him, "Tom would have loved your edition of Tennyson."