Pardee Center
A Center for Future Reality
Director of the Pardee Center for the Study of the Longer-Range Future since November 2007, Adil Najam says, "There is a mismatch today between what the biggest problems of our time are and how we are organized to systematically think about these problems." The Pardee Center's mission is to tackle that shortcoming by considering the larger themes of society's global development over a wide range of parameters. And importantly, the goal is to reach policymakers who can make use of scholars' findings in the everyday world.
A brainchild of BU alum Frederick S. Pardee (SMG'54, GSM'54), the center promotes interdisciplinary collaboration and a global outlook, drawing on experts from fields as distinct as international relations, astronomy, geography, public health, and social work, and bringing together professors and students for lectures, conferences, and other programs. Since its inception in 2000, the Pardee Center has built a reputation for attracting some of the most accomplished names in academia. Visiting professors have included Lord Martin Rees, a professor of cosmology and astrophysics at the University of Cambridge and president of the Royal Society, and Nobel Prize winners Murray Gell-Mann, in physics, and Amartya Sen, in economics.
Center research extends far beyond the borders of any one nation by examining how circumstances in individual countries influence patterns across broad regions. "The world really is a global community now," says Najam, who grew up in Pakistan. "What I do here in Boston does affect what happens in Africa. And what happens in China will affect what happens to me here in Boston."
The idea is not merely to share opinions, but to raise questions and seek solutions collectively. To that end, the center recently launched a series of monthly seminars, at which faculty members representing different departments address a single topic. For example, recent discussions have centered on disease and development, and on international trade. "The amazing thing was how much of what they were saying was similar, but how their disciplines also made them tell the story differently," Najam says, "and the connections that emerged both among them and with the audience."
No stranger to interdisciplinary work, Najam teaches in the departments of International Relations and Geography & Environment. He has studied public policy, conflict resolution, engineering, and the environment, and was a lead author on two of the four reports issued by the Intergovernmental Panel on Climate Change, the team of scientists that shared the 2007 Nobel Peace Prize with Al Gore.
Another feature that sets Pardee apart from other research hubs is its focus on a 35-to-200-year time frame—a scale Najam says is especially suited to examining key societal transformations. Rather than limiting work to a five-to-ten-year period, as is typically done in policy research, the Pardee Center seeks decision-making tools that will be relevant decades, if not centuries, from today. "We are in the business of anticipating and identifying the trends, of looking at the scenarios of things that are happening now that might affect the future," Najam says.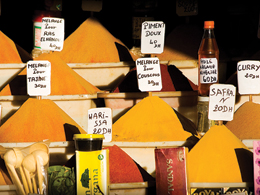 But restructuring the way institutions do research is only one part of Pardee's work. To ensure that findings have an impact outside university walls, scholars must be mindful of public policy needs. As Najam puts it, "It doesn't matter if what you're saying is right if policymakers don't understand what you're saying." That's why in addition to traditional scholarly articles published in academic journals, Pardee researchers prepare policy-relevant materials such as research briefs with reader-friendly summaries of findings. Research fellows also speak at organizations, such as the United Nations, and invite government officials, entrepreneurs, and others who shape public policy to participate in seminars and conferences at the center.
Ultimately, Najam hopes to change the way people imagine the future. "We have been trained socially to think of the future as a fantasy," he says, noting that Pardee's task is to prepare a generation of scholars who will regard the questions of long-range development as both an intellectual activity and a matter of practical importance.