Neuroscience
New Neuroscience
Psychology Professor Howard Eichenbaum knows that the best research often takes risks. With a goal of generating "breakthrough science," he launched the multidisciplinary Center for Memory & Brain in 2002 with a seed grant from the University. At CMB, psychologists, mathematicians, and biomedical engineers collaborate to study the complex role of the hippocampus from different angles. Four years after its modest beginning, the center was awarded a five-year grant of more than $9 million by the National Institute of Mental Health, which named CMB a Silvio O. Conte Center for Neuroscience Research.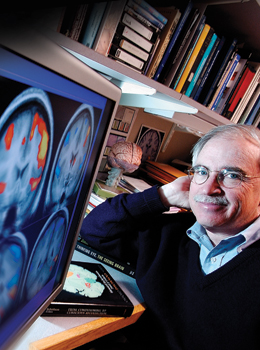 Now Eichenbaum will have the chance to boost future interdisciplinary, pioneering research as the director of the new Center for Neuroscience, which opened its doors in the fall of 2007. The center takes advantage of BU's existing strengths on both the Charles River and Medical campuses, bringing together researchers from the departments of Psychology, Computational Methods, and Cognitive & Neural Systems, as well as the School of Medicine. As an intercollege, intercampus entity, the Center for Neuroscience reports directly to Associate Provost and Vice President for Research Andrei Ruckenstein. An Executive Committee representing participating departments and centers provides collaborative leadership, with Eichenbaum as chair (see below).
The center's funding will support scientists searching for new ways to study how the brain perceives its world, how the aging brain changes, and how breakthrough therapies can treat conditions such as Parkinson's, autism, and Alzheimer's. "We want to seed new collaborations and team approaches that bring a wide range of expertise to bear on the most complex problems," says Eichenbaum.
"We want to bring a wide range of expertise to bear on the most complex problems."
The center will assume the initial financial risk for projects that traditional funders shy away from, in the hope that a good portion of these pilot projects will prove themselves and draw outside support after a few years. Research projects being considered for the center include exploration of the links between smelling and sexual attraction, monkey studies of the aging brain, and investigations of drug treatments that could enhance memory or fight addictions.
Meanwhile, faculty from the Colleges of Arts & Sciences, Engineering, and Health & Rehabilitation Sciences, and the School of Medicine are currently developing a new undergraduate neuroscience major, which expects to enroll its first students in the spring semester of 2009. Although students in psychology and biology can already specialize in neuroscience, this will be BU's first stand-alone undergraduate neuroscience program and one of the few of its kind in the nation. It will ground students in the cellular, biological systems, and cognitive/behavioral aspects of neuroscience, says Eichenbaum, and "culminate in a senior year research experience that will match students with laboratories."
As a slightly longer-term goal, and aligned with the center's scientific mission, a new umbrella graduate program is being developed under the leadership of director Shelley Russek, professor of pharmacology, which will link the three existing neuroscience graduate programs at BU—cognitive and neural systems, neuroscience, and biomedical neuroscience.
Overall, the mission is to open up opportunities for students to work with faculty across these disciplines and to take fuller advantage of departments' resources. The University's neuroscience initiatives will simultaneously expand the reach of neuroscience research and education and, Eichenbaum hopes, "create a unifying organization that can highlight our strengths."
Center for Neuroscience Executive Committee
Howard Eichenbaum, Department of Psychology and Center for Memory & Brain, Chair
Domenic A. Ciraulo, Division of Psychiatry
David H. Farb, Department of Pharmacology & Experimental Therapeutics
Nancy Kopell, Department of Mathematics and Center for BioDynamics
Mark B. Moss, Department of Anatomy & Neurobiology
Barbara G. Shinn-Cunningham, Department of Biomedical Engineering and
Department of Cognitive & Neural Systems