Faith and Reason
His official title may be Dean of Marsh Chapel, but the Reverend Dr. Robert Allan Hill defines himself by a passion for joining his Methodist faith with his career as an academic. "I'm an unapologetic generalist," Hill says with a smile. In the next breath, he's quoting Robert Frost and explaining that the French novelist Marcel Proust is at the top of his current reading list.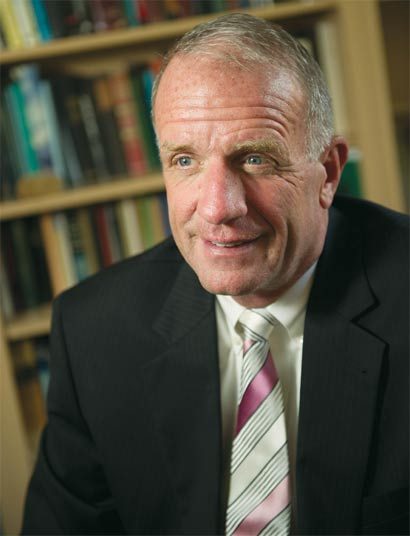 Listen to any one of Hill's sermons—which he delivers on campus every Sunday and are broadcast live to thousands of listeners across New England on WBUR, the University's NPR affiliate—and the diversity of his education and interests is immediately apparent. Under his leadership, Marsh Chapel's involvement at Boston University and in the wider community has embodied Hill's mission to unite faith and knowledge.
"Daniel Marsh built the chapel directly between the College of Arts & Sciences and the School of Theology so that religion would be experiential," says Hill, who also looks for ways to bridge the gap—real or perceived—between faith and intellect. By finding ways to apply the stories and lessons of biblical scripture to the daily experiences of students and others at BU, Hill says, he aims to "translate the tradition into insights for effective living."
Given Hill's respect for that tradition and what he sees as its continuing relevance, it comes as no surprise that his own research has repeatedly circled back to the New Testament Gospel of John. His forthcoming book, The Courageous Gospel: John in Sermon, Lecture, Essay and Discussion, joins several earlier works by Hill on Johannine studies. For The Courageous Gospel, Hill researched the ancient Coptic Gnostic documents of Nag Hammadi, which were discovered in 1945 in Egypt along the Nile River.
To read them, he says, "I had to develop a competence not only in Greek and Hebrew and modern languages, but also in Coptic, which is a form of Egyptian in Greek script." The Nag Hammadi manuscripts shed light on both the origins of the Gospel of John and the community that produced it.
As for the courage referred to in the title, Hill says, "The community that produced the fourth gospel found good news where you would least expect to find it—in disappointment and dislocation. The disappointment was that after three generations, Jesus had not returned." Instead of sinking into despair, he continues, this community of early Christians stopped looking toward a future that might never come to be, and instead began to focus on the here and now.
"In that disappointment," Hill says, "the church discovered something—not Armageddon, but the artistry of the spirit; not the future, but the present; not Jesus returning, but Jesus here. How? In this community, the church." Hill believes that this message can offer hope to people who are experiencing what may seem like overwhelming disappointment in their lives. "When you finally hit bottom," he says, "at least according to the Gospel of John, you may be on the verge of one of your greatest moments."
The dislocation, meanwhile, experienced by the community who wrote the Gospel of John, had to do with what Hill calls the "family feud" between those who chose to remain in the Jewish faith and those who were transitioning toward Christianity. Early Christians, in leaving Judaism, "lost their mother religion, their mother­land, and their mother tongue," says Hill, and to interpret the Gospel of John fairly, it is important for theologians to understand how this first-century conflict shaped the text. Here, too, he sees a lesson in optimism that can be readily translated for students.
"Daniel Marsh built the chapel directly between the College of Arts & Sciences and the School of Theology so that religion would be experiential." Robert Allan Hill
"The community that produced the Gospel of John was dislocated, and what did they find?" asks Hill. "Like a lot of college sophomores and juniors, they discovered, 'I can live on my own and I can find freedom in the dislocation, in the same way that I found grace in the disappointment.'" Or, to put it in more modern terms, "Even though you've had the disappointment of getting a C, breaking up with your girlfriend, making a life mistake—well, we learn from our mistakes."
In addition to his responsibilities as the dean of Marsh Chapel and its minister, Hill teaches two courses in the School of Theology, one on the New Testament and another on pastoral theology. He thrives in the space where faith and the academy overlap. "This is a vibrant ministry at the intersection of knowledge and life, of learning and piety, and that makes it very exciting," Hill says. "I died and went to Heaven, and the zip code is 02215."