A Talented Trio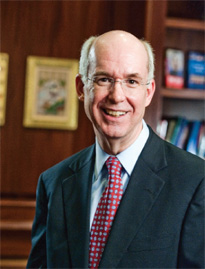 Kenneth W. Freeman dedicated his first year as Dean of the School of Management to "listening and learning." The former CEO of Quest Diagnostics—where he helped to turn an embattled corporation facing massive challenges into the leading provider of diagnostic testing—met individually with virtually every member of the faculty, and engaged broadly with students and alumni.
Freeman calls the position "a dream come true." He intends to build on the momentum created under the leadership of Louis E. Lataif, who served as Dean for 19 years, during which time the School dramatically improved in the rankings. "We have an opportunity to become an elite business school," Freeman says.
Like the blueprint of a house, his strategy for continuing to grow the School includes a foundation, pillars, and a roof.
"We start with the bedrock," says Freeman, who was rated the 67th best-performing CEO in the world by the Harvard Business Review in 2010. "That is, comprehensive knowledge of all management disciplines and a grounding in ethics and social responsibility. From there we go to global leadership experiences. We strive to differentiate the School through a focus on innovation across the sectors of health, digital technology, and energy and the environment. Leading research and teaching are our pillars, which lead to our roof, which is about creating value for the world."
A longtime advocate of the arts—whether visual, musical, or theatrical—Benjamín Juárez believes that art has a part to play in everyone's life. As Dean of the College of Fine Arts (CFA), he is reaching out to the entire BU campus, not just the 2,000 students enrolled in CFA.
"I want everyone—students, faculty, staff, administrators—to experience the talent we have here," says Juárez, who succeeded Dean Walt Meissner in August 2010. "We need strategies that bring the arts into the perspectives of the fields of interest of each school and each community."
Born and raised in Mexico City, Juárez is a music scholar and world-renowned conductor who has led orchestras in venues from Shanghai to the Champs-Élysées. He cannot remember a time when music was not an important part of his life. "I've always found solace and connection in the motion of it," Juárez says. "It holds emotions that would otherwise be beyond my grasp."
Conducting appeals to him, Juárez says, for the "multiple perspectives" it offers on music. He likewise brings substantial administrative experience to complement his passion and vision, having formerly served as director of culture, technology, and development at the Dr. José María Luis Mora Research Institute, and director general of Mexico's Centro Nacional de las Artes.
Seasoned entrepreneur Christopher Muller is determined to revolutionize the School of Hospitality Administration with an unlikely tool: the iPad. His first endeavor as new Dean was to overhaul the School's technology system by moving its curriculum to a tablet-based learning environment, and to purchase iPads for each member of the faculty and administrative staff.
"If we want to address the academic and theoretical needs of the Class of 2015," Muller says, "we have to look to the future, not the present. It's our job as educators to prepare our students for the technology of tomorrow." The School is also converting its textbooks to e-publications, which Muller says will greatly enhance students' learning experience.
"We're on the cusp of being one of the greatest hospitality schools in the nation," he says, while emphasizing the importance of technology to remain competitive in the hospitality industry. "This expansion will only propel us forward."
Muller previously taught at Cornell University and was a founding faculty member at the University of Central Florida's Rosen College of Hospitality Management, which now has 2,700 students. Among his entrepreneurial ventures were 'Za Bistro!, a café in Maitland, Florida, and Education Matters, a popular blog for the online trade ­publication Lodging.