Hoping for the Best, Preparing for the Worst
The dangers are personal. The scale can be massive. The stakes are seldom higher.
Disasters and other traumatic events present some of the most difficult challenges a reporter may ever face. Whether tragedies are man-made or natural, whether their impact is wide-reaching or individual, the choices that journalists make while covering these events have the potential to affect victims, perpetrators, and even the reporters themselves.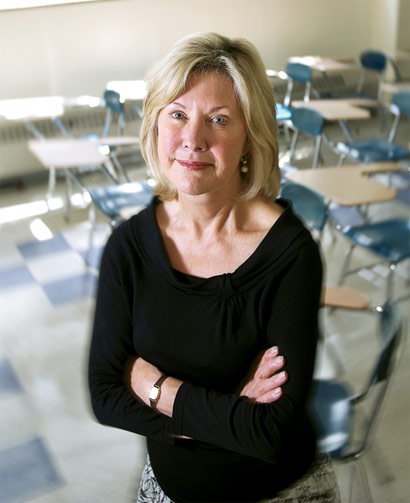 Professor of Journalism Elizabeth Mehren says that new reporters need more—and better—training when it comes to covering disasters and trauma, the worst kind of news.
"The culture of news and news practices has changed so that younger and younger journalists are in the field, facing immediate challenges," Mehren says. "Yes, they've covered the warehouse fire in a small town, but now they're going out into big things very quickly and I don't know that they're prepared for it, necessarily."
The veteran reporter is no stranger to dangerous environments and the aftermath of tragedy. She helped cover the 1992 race riots for the Los Angeles Times—the paper won a Pulitzer for its coverage of the violence—and was on the ground in New Orleans after Katrina and in New York after 9/11.
In April, Mehren helped to organize a symposium at BU titled "When Disaster Strikes: Reporting and Responding," to initiate a dialogue about what she perceives as a training gap in the field. Now, she is building a curriculum around the concept for a course that could be offered as early as next spring.
"The culture of news and news practices has changed so that younger and younger journalists are in the field, facing immediate challenges." Elizabeth Mehren
"The learn-on-the-job theory does have its flaws," says Mehren. By rebuilding the reporter's toolkit, she wants to give those entering the profession a chance to do their work safely while maximizing resources, making tactful decisions, and finding new angles despite the relentless cycle of 24-hour coverage.
Finding sources to interview in the middle of disaster and trauma scenarios—whether it's a government official or a coherent survivor—can be tricky. And once found, reporters must tread carefully in seeking information. "The interview skills required are quite different," Mehren says. "Interviewing victims: how do you do it? Interviewing survivors: how do you do it? Is there an ethical boundary at which you stop, because you realize that they've just told you too much? Or do you keep going because it's yours?"
In addition to an awareness of issues related to ethics and tastefulness, Mehren advises reporters to go into disaster zones with an understanding of shock and its potential to affect their judgment. Students can be taught to recognize symptoms of shock, and given skills to compensate for it in the field.
She also believes reporters would benefit from explicit training in how to minimize their own negative impact during a humanitarian crisis, especially when it comes to resources that are likely to be highly limited, such as transportation, equipment, food, and water. Often, that means learning how to do without. At the symposium, for example, a TV news producer and an on-air correspondent showed audience members a plastic bag, explaining that it could be a reporter's urinal for days at a time.
Mehren wants students to be able to recognize and give continued attention to what she calls "under the radar" disasters: long-range and chronic events like environmental crises and waterborne diseases, particularly in post-catastrophe zones. The recent cholera outbreak in Haiti, and the global AIDS epidemic are two examples. "I can see field trips to the coroner's office, I can see all kinds of things," she says. "I think that we can better prepare our students for their careers."