From the Vice President and Associate Provost for Research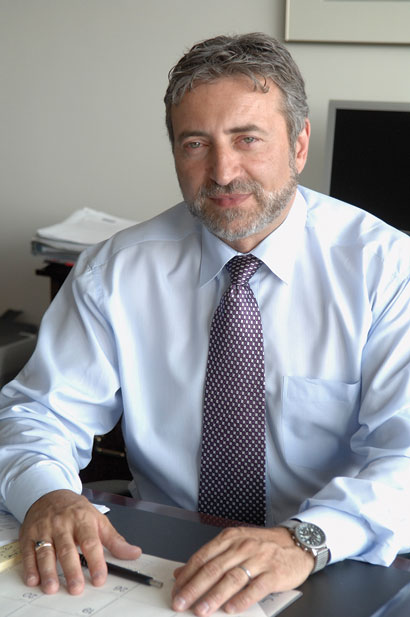 Welcome to the 2011 issue of Research at Boston University. This issue marks my fifth year as the vice president and associate provost for research at BU, and I continue to be impressed and inspired by the ingenuity of our research community and the breadth and depth of its endeavors. Within the pages of this magazine, you will find stories that feature a handful of the thousands of faculty, students, and staff who are carrying out groundbreaking and innovative research on topics that range from health care for traditionally underserved communities to ancestral Balinese music.
Over the past five years, I have also been impressed by our research community's intellectual rigor and focus as our scholars continuously strive to reach a deeper understanding of the world in which we live and provide real-life solutions to many of its increasingly complex challenges. I hope that the remarkable range of interests and goals of a complex academic community like Boston University—from curiosity-driven discoveries and voyages in uncharted intellectual territories to a commitment to the translation of knowledge into tangible solutions to societal problems—is vividly illustrated in these pages.
This year's magazine features some new additions to our list of research centers and institutes. A spectacular example is the Rafik B. Hariri Institute for Computing and Computational Science & Engineering—endowed by Bahaa Hariri (SMG'90) in memory of his father—which was launched in September. The institute is dedicated to promoting computational literacy and innovation using state-of-the-art computational techniques and facilities to address problems across disciplines, from the sciences and engineering, to the social sciences, business, and the arts; and fosters open interactions and collaboration among all units within Boston University as well as with other institutions in New England and beyond. In spirit and by design, the Hariri Institute features technical platforms rooted in deep discipline-specific expertise alongside multidisciplinary approaches to explicit solutions of complex problems, embodying an approach to sustainable interdisciplinary research that has been well tested in industrial research laboratories (such as Bell Laboratories, IBM, GE, and others) from the '50s to the '90s.
There are other aspects of BU's academic identity highlighted in this year's magazine that reflect the richness of our academic environment and provide a glimpse into our community's concerns. Here I mention only two: BU's presence as a "global player"; and the University's investment in undergraduate research, spearheaded by the Undergraduate Research Opportunities Program (UROP). This program offers opportunities for undergraduate students to work alongside some of the world's most outstanding researchers in a multitude of disciplines, sparking their curiosity and creativity inside and outside of the classroom. As a reflection of UROP's reputation outside the University, the program this year earned the prestigious Beckman Scholars Program Institutional Award for an unprecedented fifth time.
With the rapidly increasing connectivity of our world across virtually all sectors of modern life, every major higher education research institution must come to grips with its global identity. Not only do we need to succeed in a more competitive and complex environment, but the general focus of the educational system is shifting toward creating global citizens with a much greater understanding of and commitment to the world beyond their neighborhoods. Indeed, as few high-level jobs do not require some level of global involvement, we must ensure that our students—whether they are humanists, social scientists, scientists, or engineers—are equipped to navigate the cultural, social, economic, and political complexities of their work environment.
From its inception over 170 years ago, BU's reach has extended beyond our own campus, and in 1975 BU established an international exchange program, one of the nation's first. A recent survey lists over 250 activities led by our faculty from 70 departments and other academic units in 14 schools and colleges. Our global programs cover 80 countries and Antarctica, and involve up to 40 percent of the student body. In addition, the substantial increase of BU's presence as a major research university over the past three to four decades has been attracting researchers from all over the world, with strong international reputations and global connections.
This issue of Research at Boston University highlights our engagement in research collaborations with other institutions around the world. We also share accounts of conversations about the role and influence of mass and social media on disaster response, motivated by a collaboration between faculty in BU's College of Communication and journalists and aid workers from around the world. Alongside stories of global innovation, you will also encounter some of the exciting research that is being done in examining the lessons of history's cross-cultural interactions, from challenging assumptions about American and European art and culture between the world wars, to translating Persian poetry.
I hope that you will enjoy meeting our outstanding faculty, researchers, and students and learning about their remarkable accomplishments and their impact on and dedication to society, the University, and one another. And as you read on, realize that BU's ongoing evolution, our current intensity and sense of purpose, our aspirations and vitality are not adequately reflected by the accomplishments described in this magazine, but are expressed in nascent ideas, concepts yet to be invented, and discoveries that are incubating and not yet in conscious form. Just as many of the projects featured here were not yet formulated when I first arrived at BU almost five years ago, the journeys that our faculty and students are embarking on today that test the limits of human imagination will bear fruit over the next months, years, and even decades. I hope you are as eager as I am to explore future issues of Research at Boston University, where we will undoubtedly encounter concepts and phenomena that we cannot even begin to imagine today, and discover worlds that we did not expect existed.