Building, developing, and connecting the postdoc community
It's our job to make sure BU provides a supportive environment for postdoctoral training, and we do that by offering professional development opportunities to our postdocs and their faculty mentors, capturing and reporting postdoc data, and informing BU policy development.
Meet the PDPA team
Sarah Hokanson, PhD, Assistant Provost
sch1@bu.edu | 617-358-2111
Sarah is responsible for postdoctoral affairs, professional development programming and resources for doctoral students and postdocs across the University, as well as supporting the development of University policies related to postdoctoral scholarship. She also provides resources for faculty mentors and PIs applying for grants related to doctoral and postdoctoral training. Sarah is the multi-PI of the Postdoc Academy, a $1.8m NIH project focused on providing digital and in-person professional development opportunities for postdocs nationwide. She is co-PI of an NSF AGEP Alliance (CIRTL AGEP) focused on improving the research climate for graduate students and postdocs, and is co-Director of the Workforce Development Core within Boston University's NSF Engineering Research Center (CELL-MET). Sarah serves in leadership positions nationally, including most recently on the AAMC Postdoctoral Leaders Steering Committee and the Cross Network Operations Group within the Center for the Integration of Research, Teaching, and Learning (CIRTL) Network.
Prior to joining Boston University, Sarah was US Deputy Director of Science and Innovation at the British Consulate-General, Boston. Sarah holds a BA in Chemistry from Boston University and a PhD in Biochemistry and Molecular Biophysics from the University Of Pennsylvania School Of Medicine. Sarah's graduate research was supported by the NSF Graduate Research Fellowship Program, and she completed a NIH Ruth L. Kirschstein Postdoctoral Fellowship at Cornell University in the Department of Chemistry and Chemical Biology. She received an Executive Education Certificate from MIT Sloan School of Management's Entrepreneurship Development Program in 2014.
Alexandra Bunnell, Program Manager
abunnell@bu.edu | 617-358-9507
Alexandra is the Program Manager for Professional Development & Postdoctoral Affairs. She will be working with postdocs by managing postdoc data, overseeing the non-employee postdoc benefits program, developing and implementing communications, managing the financial operations for the office, and coordinating logistics for events and other programming.
Alexandra earned her BA from University of Massachusetts Amherst in Communications, and is currently pursuing her MBA here at Boston University. She just joined the team after working in the Questrom School of Business for three years as the Events & Marketing Administrator in the Graduate Admissions Office.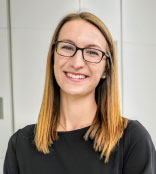 Celine Hartman, PhD, Program Manager, Postdoc Academy
clh1@bu.edu | 617-353-1406
Celine is the Program Manager for the Postdoc Academy, a new NIH-funded project designed to provide nationwide professional development support for postdocs. This program will create a Massive Open Online Course (MOOC) for postdocs as well as supplemental in-person learning communities, with the goal of preparing a diverse community of postdocs to be successful in their careers. Within the program, she is responsible for operations, content development, facilitation, communications, and partnership management.
Celine completed her PhD in Biochemistry and Molecular Biology at Saint Louis University School of Medicine. Throughout her graduate studies, she instructed undergraduates classes, advocated for biomedical research, and represented graduate students on school-wide committees. She holds a BS in Biology from Bradley University in Peoria, IL.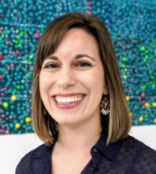 Rachel Stumpf, PhD, Postdoctoral Associate, Graduate Affairs
rstumpf@bu.edu | 617-358-1618
Rachel works with both the Office of the Associate Provost for Graduate Affairs and Professional Development & Postdoctoral Affairs to support professional development for doctoral students. Her responsibilities include developing and leading professional development workshops, facilitating communications, and using assessments to continually improve and expand programming.
Rachel earned her PhD in Education from the University of California, Irvine. At UC Irvine, she served as a director for the National Writing Project's College, Career, and Community Writers Program (C3WP), a professional development program that supports high school instructors in their teaching of argumentative writing. She holds a BS in English and Elementary Education, and she began her career teaching high school language arts in North Dakota.
Brian Fenster, Events Manager
fensterb@bu.edu | 617-353-1367
Brian manages events for Professional Development & Postdoctoral Affairs and the Office of Research. In his role, he serves as a liaison to event facilitators and members of the Boston University community.
Brian earned a BA in International Affairs and Environmental Studies from Northeastern University. He is currently pursuing an MBA at the Questrom School of Business with concentrations in both Leadership & Organizational Transformation and Strategy & Innovation.
Office Locations
Charles River Campus
Office of the Provost
One Silber Way, room 909 (Research Suite), Boston, MA 02215
Medical Campus
Division of Graduate Medical Sciences
72 E. Concord St, room L306, Boston, MA 02118