Anthony Petro
145 Bay State Road, Suite 402
Boston, MA 02215
T: 617.353.3088; F: 617.358.3087
Email: apetro@bu.edu
Office Hours Spring 2021: Tues: 3:30pm-4:30pm, Wed: 1:00pm-2:00pm, Fri: 1:00pm-2:00pm. All by appointment at http://apetro.youcanbook.me/
Bio
Anthony Petro (he/they) is an associate professor in the Department of Religion and in the Women's, Gender, & Sexuality Studies Program and the NEH Distinguished Teaching Professor at Boston University. My teaching and research interests include religion and culture in the United States; religion, medicine, and public health; and gender and sexuality studies. My first book, After the Wrath of God: AIDS, Sexuality, and American Religion (Oxford University Press, 2015), examines the history of American religious responses to the HIV/AIDS crisis and their role in the promotion of ongoing forms of moral citizenship. I have published essays on a number of topics, including histories of Catholic sexual abuse, critical disability studies and religion, the religious politics of camp, and approaches to studying race, gender, and sexuality in North American religion.
My ongoing research engages questions about religion and secularism, the cultural politics of morality, and religious formations of bodies. I am currently writing a book called Provoking Religion: Sex, Art, and the Sacred in the Modern United States (under contract with Oxford University Press), which traces heated debates over sex, art, and religion to reveal competing genealogies of the sacred and the secular in the modern U.S., especially during the heyday of the culture wars. It explores how a range of feminist and queer artists have engaged religious themes and ritual in their work, spanning from Judy Chicago's 1979 The Dinner Party to the controversy surrounding David Wojnarowicz's A Fire in the Belly as part of 2010's "Hide/Seek" exhibit at the National Portrait Gallery. Provoking Religion asks how this archive of visual and performance art helps us to rethink key categories in the study of religion and in gender and sexuality studies. I spent the 2019-2020 academic year working on this project while in residence at the School of Historical Studies at the Institute for Advanced Study in Princeton, NJ. 
I currently serve as the Director of Graduate Studies for the Graduate Program in Religion and run BU's new Health Humanities Project.   
Books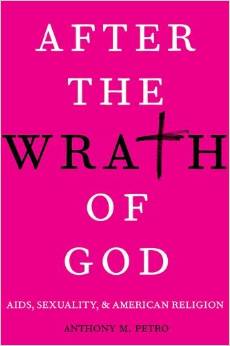 After the Wrath of God: AIDS, Sexuality, and American Religion
By: Anthony M. Petro
July 1, 2015
Oxford University Press
Buy it now from Amazon or UOP!
After the Wrath of God: An Interview with Anthony Petro
Courses
CAS RN 100 Introduction to Religion
CAS RN 111 Multireligious America
CAS RN 209 Religion, Health and Medicine
CAS RN 212 Christianity
CAS CC 222 "Unmaking" the Modern World
CAS RN 368/638 American Evangelicalism
CAS RN 427/727  Topics in American Religion
GRS RN 795 Humanities Approaches to Religion