Anthony Petro
145 Bay State Road, Suite 401
Boston, MA 02215
T: 617.353.3088; F: 617.358.3087
Email: apetro@bu.edu
Spring 2015 Office Hours: Wed 10-12 and 2-3, and by appointment with Online appointment scheduler

Bio
Anthony Petro received his Ph.D. in Religion from Princeton University in 2011, specializing in Religion in America and Women and Gender Studies. His research and teaching interests include the history and politics of modern Christianity, especially the history of Protestantism and Catholicism in the United States; gender and sexuality studies; the history of the HIV/AIDS epidemic; and religion, medicine, and public health. His first book, After the Wrath of God: AIDS, Sexuality, and American Religion, investigates the history of American religious responses to the AIDS crisis and their role in the promotion of a national moral discourse on sex. He co-chairs a five-year seminar called "Global Perspectives on Religion and HIV/AIDS" for the American Academy of Religion. In addition, he is developing a new project that examines the history of American Christian engagement with health and disability policy in the U.S. since the 1950s. It demonstrates how Christian leaders and activists have shaped cultural understandings of health and moral citizenship through debates about topics such as alcoholism, euthanasia, disability rights, vaccination, abortion, and the war on drugs. 
Books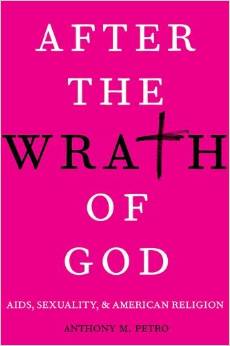 After the Wrath of God: AIDS, Sexuality, and American Religion
By: Anthony M. Petro
July 1, 2015
Oxford University Press
Buy it now from Amazon!


Courses
CAS RN111 Multireligious America
CAS RN209 Religion, Health and Medicine
CAS RN212 Christianity
CAS RN368 American Evangelicalism
GRS RN795 Humanities Approaches to Religion