Prof. Ali to be a panelist for "Religion Mythbusters."
The BU Interfaith Council is starting a panel series. The theme?
"Religion Mythbusters"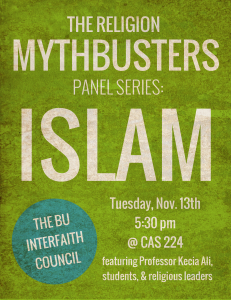 Our goal, in this series, is to break down myths, stereotypes, and preconceptions about various religious traditions. And the first religion we're doing that with is Islam. There are plenty of stereotypes about Islam–terrorism, oppression, violence, and more. We plan to take a deeper look at these. Our panelists include Professor Kecia Ali, undergraduate Muslim student Monsura Sirajee (a proud member of our Interfaith Council Leadership Board!), and a Muslim religious leader.