Apartments
There are a total of 220 apartments at 580 Commonwealth Avenue consisting of 11 one bedrooms and 209 studio apartments, including handicapped accessible studios. The apartment amenities include:
Modern kitchens with full sized refrigerators, electric stoves, microwave ovens and garbage disposals.*
Modern bathrooms with full sized shower and tub.
Central air-conditioning is included in the monthly rent. (Seasonal according to city ordinances)
Heat, electricity and hot water are included in the monthly rent.
High speed wired Internet access is available via the Boston University ResNet System at the standard 2016/2017 fee structures.
All apartments are cable ready. Cable television service is available through a private provider at an additional cost.
All apartments are leased unfurnished. Many of our tenants use American Furniture Rental. Please note that there are other rental furniture providers.
Below are photos of the former furnished model apartment.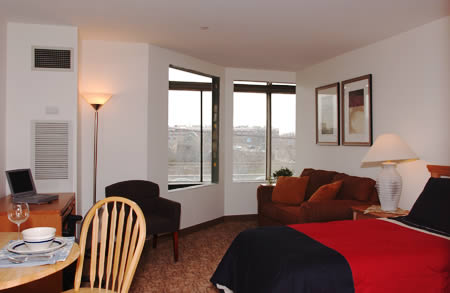 *Please note that handicapped units have a two-burner stove and do not have a microwave oven or a garbage disposal.
**Please note that all apartments in 580 Commonwealth Avenue are leased unfurnished.