24/7 Maintenance & Support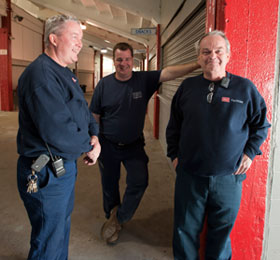 Reliable and always there. We are available to you 24 hours a day, 7 days a week, for maintenance and support services. Unlike some other area landlords, when it comes to providing services to our residents, we never sleep.
Maintenance problems may be reported to our Maintenance department by calling (617) 353-4102 between 9 a.m. and 5 p.m. Monday through Friday.  All emergency maintenance as defined below may be called in to Facilities Management at (617) 353-2105 during non-business hours. For more information about the services provided by Facilities Management go to www.bu.edu/facilities/.
The following constitute emergency maintenance:
Backed up or overflowing toilets
Flooding caused by broken pipes and ceiling or roof leaks
Loss of heat or power
Broken glass
Any maintenance issue causing serious damage
An Area Superintendent is on duty after 5 p.m., on weekends, and holidays. They may be called upon for lockouts and any assistance that he/she can render in case of an emergency. Please note that there is a $25.00 charge for after-hour lock-out services.  To view which Superintedent is assigned to your building, please follow this link.
Superintendents
Jeff Hemperley
(617) 592-1406
455 Park Drive #6
Syed Ashraf
(617) 536-8703
14 Buswell Street #105
Atef Ghobrial
(617) 731-3387
83 Ivy Street #32
Daniel Goldberg
(718) 704-4069
580 Commonwealth Avenue #1114
Derrick Monteiro
(774)-360-3424
210 River Way #534
William Chapman
(617) 383-9042
210 River Way #414