Institute for Healing of Memories Lecture by Ela Ghandi
The Institute for Healing of Memories in South Africa held its First Annual Lecture at the University of the Western Cape on the 18th August 2011.  It was given by Ela Ghandi, who is granddaughter of Mohandas Gandhi, is a peace activist, and was a Member of Parliament in South Africa from 1994-2004.
To read a transcript of the lecture, click here.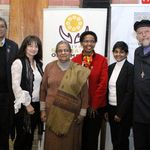 The Institute for Healing of Memories was founded in 1998.  It grew out of the Chaplaincy Project of the Trauma Centre for Victims of Violence and Torture, where Father Michael Lapsley was one of the founder members.
The Institute seeks to contribute to the healing journey of individuals, communities and nations. Its work is grounded in the belief that we are all in need of healing, because of what we have done, what we have failed to do, and what has been done to us.
Through his own experience of living in exile, losing both hands and an eye in a letter bomb attack in 1990, and listening to the stories of the survivors whom he counselled at the Trauma Centre, Fr Michael realised the importance of giving people a space in which their experiences could be shared and acknowledged.