Metcalf Awards
Metcalf Cup and Prize and Metcalf Awards for Excellence in Teaching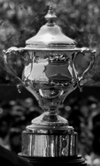 Students, alumni, staff and members of the faculty at Boston University are invited to recommend candidates for the 2013 Metcalf Cup and Prize for Excellence in Teaching and for the Metcalf Awards for Excellence in Teaching.
The Cup and Prize and the Awards were established in 1973 by a gift from the late Dr. Arthur G. B. Metcalf to create "a systematic procedure for the review of the quality of teaching at Boston University and the identification and advancement of those members of the faculty who excel as teachers." Excellence in teaching requires mastery of the subject matter, successful strategies for challenging students and engaging them in ambitious learning; and thorough, thoughtful evaluation of student work.
The Metcalf Committee consists of the Chair, as well as one committee member from the previous year and the current Metcalf Prize and Award winners. The committee also includes two students: one Harold C. Case Scholarship winner and one Dean Elsbeth Melville Scholarship winner.  Over the course of the year, the committee solicits statements from the candidates on their approaches to teaching, reviews student evaluations, examines course syllabi, graded assignments and other course materials, including web-based, and seeks additional letters of recommendation from current and former students. The members of the committee visit the classes of the finalists and, in the spring, present their recommendations to the University's president.
To be eligible, a faculty member must:
have held a full-time, continuing appointment on the teaching faculty for not less than six semesters
not be currently under review for promotion or tenure
not be on sabbatical leave, or leave of absence
not be a previous winner of the Metcalf Cup and Prize
not hold an administrative appointment
Lecturers are eligible
The Office of the Provost verifies the eligibility of those who are recommended. Each of the eligible candidates is asked to provide the committee with a curriculum vitae and a statement about his or her teaching. From among these candidates, the committee selects semifinalists who are asked to provide additional documentation, and classroom visits are scheduled. After further evaluation, the committee submits its list of finalists to the President. The Cup and Prize and the Awards are presented annually at Commencement.
The deadline for receipt of letters is Friday, October 26, 2012 for awards presented at Commencement the following May.
Letters of recommendation should be sent electronically as a PDF attachment to:
Ashley Sampson (asampson@bu.edu) in the Office of the Provost.
Nominations should include:
Nominee's name, faculty rank (e.g. Associate Professor), department, email address, and a brief, compelling statement (no more than a half a page) about why you are nominating the faculty member for the University's highest teaching award.