Dr. Michelle Henshaw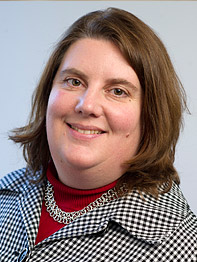 For Dr. Michelle Henshaw, there is no greater gift to give the world than a healthy smile – and no more lasting way to deliver it than through the caring hands of students entering the dental profession.
Henshaw is Assistant Dean for Community Partnerships and Extramural Affairs with the Henry M. Goldman School of Dental Medicine and Director of its Division of Community Health Programs. Her job as both a professor and administrator: creating new opportunities for students not only to learn, but to help improve the long-term oral health of children and families across the region, often in some of the most underserved neighborhoods.
"We really want our students to think about the dental profession and the role that they, individually, and the profession, as a whole, should have in addressing oral health needs and disparities," Henshaw says. "What we try to instill is that you can have a balance between working at a private practice and volunteering, whether it's in local schools or nursing homes. There is very much a civic engagement and social responsibility component to what we do here."
For Henshaw (SPH '96), a Taunton native, the world changed shortly after her graduation from dental school (from the University of California, San Francisco) and her assignment to a residency at the Veterans Administration Hospital in Brockton. There, the needs Henshaw says she witnessed among aging veterans forever altered her view of medicine. "I was working a great deal with geriatrics and medically compromised patients who'd often been turned away from private practice offices because they were too sick," she says. "It wasn't until my experience in Brockton that I was forced to take a step back and understand that there are entire communities out there without access to care. And so today, I'm trying to give back in a way I never had the opportunity to back in dental school."
For GSDM, it means linking its didactic and clinical curriculum with a considerable concentration in public service. Since assuming her leadership role, Henshaw has built partnerships with more than 50 community-based programs around the Boston area, as GSDM students at once gain fundamental knowledge and immerse themselves in local schools, health clinics, and Head Starts, teaching basic oral health to children and families; providing cleanings and preventative care; and learning firsthand the very human side of the profession they're entering.
It's all part of a broader effort, Henshaw says, to ensure that underserved populations receive the level of information and care they need to help lead healthy lives. And to, in turn, help GSDM students develop a lifelong connection to assisting those in need. Henshaw's campaign for cleaner teeth reaches well beyond her standard faculty work. She is co-director of the NIH-supported CREEDD (Center for Research to Evaluate and Eliminate Dental Disparities), which provides oral health training, counseling and information to low-income communities; and is also a collaborator on the Boston Health Commission's and Healthy Baby/Healthy Child program, which provides pre- and post-natal health counseling to mothers and families.
Her efforts haven't gone unnoticed. In addition to numerous fellowships, lecture invitations and collaborations on national and statewide oral health projects, Henshaw last year received the American Dental Education Association's William J. Gies Award for Innovation in the Dental Educator category based on her successful integration of teaching, translational research and clinical service, and outreach activities within the GSDM curriculum. "For our own students, it is our hope that each experience provides them with a big picture of what the need is out there," she says. "For the communities we serve, we want to make sure that they have the opportunity to ultimately get on a path to good oral health."