Andrew Jorgensen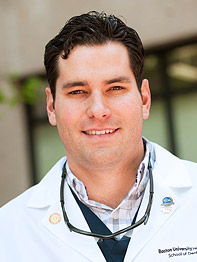 Andrew Jorgensen had landed the sort of job every budding engineer and aircraft aficionado dreams of – designing rocket fairings for a major aerospace firm in the Utah desert. It was only six months in, however, that Jorgensen, a freshly minted grad of Colorado State University's mechanical engineering program, recognized that the often conceptual and computer-based work of R&D engineers wasn't for him.
"I've always worked with my hands and remembered going to school thinking I'd get to do a lot of hands-on work," he says. "Instead, I was being asked to write directions on how to do things. I don't even read directions! So the idea of writing directions was about as boring as it gets."
So Jorgensen, 29, began quietly investigating careers that allowed him to make use of his hands and, more importantly, he says, to help people. High on the list was everything from police work and firefighting to emergency medical services. And then there was the family business. As the son of a successful dentist in his native Aurora, CO, Jorgensen said the idea of helping people smile began clicking into place for him, and soon he was re-enrolling at a local university to take the pre-requisite courses for dental school.
Jorgensen (DMD '13) arrived on the BU Medical Campus in 2009, immediately taking note, he says, of the collegial nature of the faculty and admissions staff and of a curriculum that places particular emphasis on public service. "I remember buying my hoodie that first day I got here – I knew this was where I wanted to be." He hasn't looked back since.
Jorgensen has, by every account, excelled over his first three years in the Henry M. Goldman School of Dental Medicine, earning the respect of instructors and honing his skills (both clinical and human) through the program's rigorous coursework and embedded involvement in the Boston and surrounding communities, where BU dental students work with low-income children and families, providing cleaning, treatment and education. "It's been an incredible experience," he says. "I've grown a great deal because of it."
This summer, Jorgensen brought his passion for preventing cavities on the road, taking part in a three-week externship in the cold, remote reaches of Bethel, Alaska – home to a Yupik Eskimo population cut off from the mainland and most basic health services. There, the soft-spoken Jorgensen (who, at roughly 6'7", surely stood out as a gentle giant) worked with the Yukon-Kuskokwim Health Corp., a tribally-funded health center which serves Bethel and 48 Native villages, performing basic dental care, assisting on procedures and teaching children and families about oral health. For Jorgensen, himself a descendent of the Sault Ste. Marie Tribe of Chippewa Indians in Michigan, the experience took on added significance. "I can remember visiting my aunt [in Michigan] while I was growing up and seeing all the surgeries she needed for chronic back pain that were provided by the tribal medical center," he says. "I remembered thinking to myself even then, 'I'd like to give back a little and do what they did for her.'
"Bethel is a once in a lifetime experience," he continues. "They need help out there. It's a fulfilling thing to do. People like to smile. It's an important part of who they are, and so if I can do a little to help them, then that means a lot to me."
As for his plans once he graduates from dental school next spring, Jorgensen has his heart set on returning to his native Colorado, where his beloved wife Nicole works as a cardiology nurse in a local hospital. His hope: to join a small practice in the mountains, he says, where he can help people and, once and for all, become an engineer of sorts – the kind that create new smiles.