Metcalf Awards for Excellence in Teaching: Past Awardees
2019 Metcalf Award Recipients
Neal H. Fleisher
Henry M. Goldman School of Dental Medicine, General Dentistry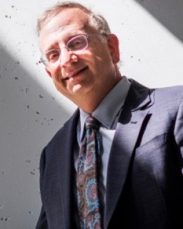 Neal H. Fleisher is a Clinical Professor of General Dentistry at Boston University Henry M. Goldman School of Dental Medicine, where he also directs the Predoctoral Periodontology and Faculty Development programs. Dr. Fleisher joined the faculty in 1986 and teaches seven classes throughout the four-year curriculum, ranging in size from large lectures to small discussions.
Dr. Fleisher employs inventive teaching methods that prompt students to think critically and question assumptions. Most often noted is his use of visual thinking strategies—taking students to the Isabella Stewart Gardner Museum as a means to develop powers of observation, thereby improving diagnostic skills. He is an early adopter of classroom technologies that engage students and assess educational outcomes. He also trains students in the use of advanced clinical technology to better serve the patient.
His course evaluations are glowing. Comments such as "excellent," "a very enjoyable learning journey," and "allowed me to think without bias" are representative of student praise. One respondent put it simply: "this is what true learning is."
Colleagues are equally effusive, calling Dr. Fleisher "inspirational" and "a role model" who "teaches the teachers." His many honors include an Educator Award for Outstanding Teaching and Mentoring in Periodontics from the American Academy of Periodontology and a Spencer N. Frankl Award for Excellence in Teaching from the Henry M. Goldman School of Dental Medicine.
Dr. Fleisher holds a Bachelor of Arts in Psychology from Hofstra University and a Doctor of Dental Medicine and Certificate of Advanced Graduate Study from Boston University.
---
Gregory L. Stoller
Questrom School of Business, Strategy & Innovation
Gregory L. Stoller is a Senior Lecturer at Boston University's Questrom School of Business in the Department of Strategy & Innovation. Since arriving in 2015, he has made significant contributions in curriculum enhancements and experiential learning, developing two new courses and three extracurricular programs.
He uses his international business background and contacts in the entrepreneurial and venture capital worlds to offer students industry insights and practical tips. In his introductory entrepreneurship course, students present to, and are in part assessed by, entrepreneurs. His global management courses culminate in trips to Asia that are tailored to course content and have been described as "immersive cultural experiences."
Student evaluations, peppered with superlatives, characterize a "one-of-a-kind" "life-teacher" who "connects students to the real world" and "enriches learning and critical-thinking skills." Annual reviews consistently rank him among the top 1 percent of full-time faculty.
And seasoned expertise informs that excellent teaching: he founded Coolidge Plaza, LLC, a real estate holding company; was financial planning manager for ZOOTS when it launched as a start-up; and garnered extensive global business experience, particularly in Asia. He was the first international executive named to the Expert Advisory Board of China Financial Consultancy Co., Ltd.
He holds a Bachelor of Science cum laude from Cornell University and a Master of Business Administration from Harvard Business School. He has published numerous books, articles, and case studies, and speaks seven languages.
For all his accomplishments and success, Greg Stoller still insists that he learns from his students as much as he teaches them.
2018
Elizabeth Co, CAS
James A. Wolff, SPH
2017
Sophie Godley, SPH
Gary Lawson, LAW
2016
Manher Jariwala, CAS
Erin Murphy, CAS
2015
Binyomin Abrams, CAS
Pamela Templer, CAS
2014
Terry Everson, CFA
Alan Marscher, CAS
2013
John Finnerty, CAS
Carol Jenkins, SED
2012
Marisa Milanese, CAS
Robert Lowe, MED
2011
Wayne LaMorte, SPH
David Walker, LAW
2010
John Caradonna, CAS
Sandra Nicolucci, CFA
2009
Peter Edward Busher, CGS
2008
Andrew Kull, LAW
T. Jefferson Kline, CAS
2007
Penelope Bitzas, CFA
2006
Peter Hawkins, CAS
John T. Matthews, CAS
2005
Akahiro Kanamori, CAS
John Straub, CAS
2004
David Marchant, CAS
Anatoly Temkin, MET
Rosanna Warren, CAS
2003
Robert L. Devaney, CAS
Ann Howard Jones, CFA
2002
Theo de Winter, ENG
Fred S. Kleiner, CAS
Diana Wylie, CAS
2001
Lisa Sullivan, SPH
2000
Dan Clemens, CAS
Maureen O'Rourke, LAW
1999
Raymond J. Nagem, ENG
David Roochnik, CAS
1998
M. David Eckel, CAS
Loren J. Samons II, CAS
1997
Igor Lukes, CAS/UNI
John Daverio, SFA
1996
Dick A. Brown, MED
James Johnson, CAS
Frederick M. Lawrence, LAW
1995
Robert G. Feldman, MED
Tracey Maclin, LAW
1994
Bonnie Costello, CAS
1993
S. Hamid Nawab, ENG
Mark Pettit, Jr., LAW
1991
Theodore Antoniou, SFA
Robert G. Bone, LAW
1990
Carolyn Dillon, SSW
Solomon Eisenberg, ENG
1989
Katheryn Pfisterer Darr, STH
John Snyder, CAS
1988
Nagagopal Venna, MED
1987
Jeffrey Coulter, CAS
Misia Landau, CAS
1986
James Purvi, CAS
Anna Deane Scott, SAR
1985
Alicia Borinsky, CAS
Jules Schwartz, SMG
1984
Peter F. Arenella, LAW
William R. Keylor, CAS
Lester F. Williams, Jr., MED
1983
D. Allen Rogers, SFA
Carolyn Williams. CAS
1982
Steven Molinsky, SED
1981
Katherine O'Connor, CAS
N. Paul Rosman, MED
1980
Roselmin Indrisano, SED
John R. Russell, SMG
1979
Louis Low, SSW
Murray R. Yaeger, COM
1978
Freda Rebelsky, CAS
Samuel Stern, MET
Alfred Prock, CAS
1977
Celia Millward, CAS
David Wheeler, CAS
1976
Muriel A. Poulin, SON
Arnold A. Offner, CAS
Robert H. Sproat, CAS
1975
Charles P. Fogg, CGS
Paul D. Berger, SMG
1974
Gerald P. Fitzgerald, CAS
Nancy L. Roelker, CAS
Paul A. Wallace, LAW