United Methodist Church Scholar/Teacher of the Year Award
Students, alumni, staff and members of the faculty at Boston University are invited to recommend candidates for the 2015 United Methodist Church Scholar/Teacher of the Year Award.
2015 Nomination Deadline:  Friday, October 3, 2014
The University Scholar/Teacher of the Year Award, established by the General Board of Higher Education and Ministry of The United Methodist Church, is conferred at colleges and universities historically affiliated with it. The award recognizes outstanding scholars for their dedication and contributions to the learning arts and to the institution.
The University Scholar/Teacher of the Year is selected by the Provost's Faculty Teaching Awards Committee, which consists of the Chair, a committee member from the previous year, the current Methodist Scholar/Teacher of the Year, and the current Metcalf Prize and Award winners. The committee also includes two students: one Harold C. Case Scholarship winner and one Dean Elsbeth Melville Scholarship winner.
Nominations should include:
A brief letter of nomination (about half a page) detailing why
you are recommending this faculty member for the award;
A list of courses taught over the past two academic years;
Course evaluations (optional)
Nominations of women and ethnic minorities are especially welcomed.
Nominations and supporting materials should be sent electronically as a PDF attachment to the Associate Provost for Undergraduate Affairs at apundergrad@bu.edu.
2014 United Methodist Church Scholar/Teacher of the Year Award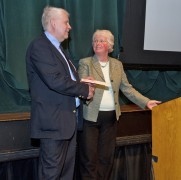 This year's nominating process yielded a truly exceptional class of candidates, each with remarkable talent and ability to inspire the best from students. After considerable discussion and deliberation, we are delighted to announce that the winner of this year's United Methodist Scholar/Teacher of the Year award is Professor Thomas Gilmore, of the Department of Biology. Professor Gilmore is Director of BU's Undergraduate Research Opportunities Program (UROP) and is also Adjunct Professor of Pharmacology & Experimental Therapeutics in the School of Medicine. For nearly three decades, Professor Gilmore's foundational research in the treatment of cancer and autoimmune diseases has perhaps been equaled only by the esteem, standard of work, and lifelong passion for scientific inquiry he has inspired among those he's taught and mentored at BU. Professor Gilmore's international renown as a researcher, his transformative leadership of UROP, and his celebration by both colleagues and students as a tireless advocate for their success make him an outstanding selection this year.