2004 Metcalf Cup & Prize
Joel L. Sheveloff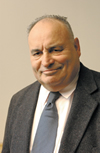 In his 40 years at the College of Fine Arts, Joel Sheveloff has become a humble institution within the school of music, developing and teaching more than 50 courses in topics ranging from medieval keyboard music to opera to music in the Soviet Union. Thousands of music students, including several who are now CFA professors, have benefited from his knowledge and dry wit. But Sheveloff, a CFA professor of music, insists that he's the beneficiary. "I have learned more from you than you have from me," he tells students at the end of every course.
Beyond the numerous authoritative works he's written on Mozart, Brahms, Mussorgsky, Ravel, and Stravinsky, and the technical studies of musical performance, notation, and aesthetics he's published over the years, it is Sheveloff's devotion to his students that underpins his reputation at BU, earning him the 2004 Metcalf Cup and Prize for Excellence in Teaching, the University's highest teaching honor. "It was never about me," Sheveloff says of his teaching, "just the music and the kids and the ever-new sense of aesthetic awakening."
The Metcalf Cup carries with it a prize of $10,000, which Sheveloff is contributing to the CFA scholarship fund in memory of his late colleague John Daverio (CFA'75,'76, GRS'83). The amount will be matched by the University.
"Joel Sheveloff's contribution to the life of the school is incalculable," says André de Quadros, a CFA professor and director of the school of music. "His depth and breadth of knowledge and his capacity to provoke a spirit of inquiry continue to make a profound impression."
Students and faculty are impressed not only by Sheveloff's encyclopedic knowledge, but by his unpretentious manner. "I suspect Joel knows what color socks Stravinsky was wearing when he conceived the Rite of Spring," writes a fellow music professor. "Yet he wields his knowledge not as a club to intimidate, but as an invitation to explore and experience wonders of which students and faculty are ignorant. Self-effacing to a fault, he is the one to whom I look every time I'm tempted to think that my faculty position is 'all about me.' To Joel, it's all about the students, and that is why he's deserving of every lofty word spoken about him."
Students are equally devoted to Sheveloff. "I'd take courses simply because he was teaching them," writes an alumna, "and that expanded my world. I took a course on Lieder and the art song. Now Lieder is a vital part of my life that I otherwise wouldn't have even known about without Joel."
Other students say Sheveloff lifted them up out of a narrow understanding of their own instrument and gave them a broader view of different genres. "He had a way of making the world of music not an isolated one of specialists with strange tastes and interests," writes one student, "but an entire world in which all of us can live fully."
Sheveloff joined the Boston University faculty in 1964 after earning a bachelor's degree in arts from the City University of New York, Queens College, and both a master's degree and a Ph.D. from Brandeis University. He's acquired considerable momentum and influence in his four decades at BU, and will continue to shape the school of music for years to come. "I remember back to the time when I was a student in his classes in the late 1960s," writes a CFA professor, "and recall with great fondness his course in Twentieth Century Music. I still have my multicolored scores in which we tracked tone rows. I remember him as being the most brilliant teacher I had back then — his class was full of the joy of discovering what went on in composers' minds. I'm delighted that decades later students are still recipients of his brilliance. It's a remarkable legacy."