2002 Metcalf Cup & Prize
Laisheng Lee Chou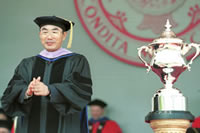 A world renowned expert lecturer in bone tissue engineering, molecular biocompatibility of implant materials, and HIV-associated oral lesions, Dr. Chou also is a professor in the School of Dental Medicine's Departments of Restorative Sciences/Biomaterials and director of its Oral AIDS Clinic. He has developed new courses and an array of new methods of instruction since joining the faculty in 1994, and holds patents for a number of biomedical inventions, including one for scaffolds for bone tissue engineering.
A tireless teacher, clinician, researcher and administrator, he is famous within the School of Dental Medicine for his clarity when teaching state-of-the-art, complex material. "The ease with which Dr. Chou explains challenging material is a testament to his genuine brilliance as a teacher," says a former student. A current graduate student notes of the Chinese-born professor, "Not only is he an expert within multiple areas of dentistry, he is also able to communicate his knowledge appropriately to his students."
As a true testament to his teaching excellence, Dr. Chou has left a legacy of students who have incorporated his organized methods and compassionate attitudes in classrooms and labs where they now teach or in treating patients in their dental practices. "Smart but down-to-earth," says another former student, "Dr. Chou is exceptional because he is not just a star; he makes new stars and helps them shine."
Before joining the Boston University faculty, Dr. Chou was a fellow at both the Medical Research Council of Canada and the University of Chicago, principal investigator for the oral pathology division of the University of California's School of Dentistry in San Francisco, and taught at both Shanghai Railway Medical University and Shanghai No. 2 Medical University in China. He received his doctorate of dental medicine in 1978 from Shanghai No. 2 Medical University, postdoctoral diplomas in oral pathology and oral medicine from the University of California, and his Ph.D. in oral biology from the University of British Columbia.