1994 Metcalf Cup & Prize
Morton Z. Hoffman, CLA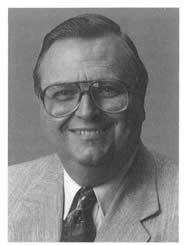 In his thirty-three years at Boston University, Professor Hoffman has ushered generations of students through chemistry. Many of those have gone on to distinguished careers in science and medicine. He is a consistent master of each element of the teacher's art: lecturing, tutoring, mentoring, curriculum. He has created in his classroom, his laboratory, and his office an environment of inquiry, excitement, and love of learning, all the while inspiring others through the example of his own highly productive research in chemistry. He does more than provide comprehensive knowledge: he shows students a living and spirited example of what it is to be a scientist, of what they too may become.
The members of the Metcalf Committee who visited Professor Hoffman's lectures found the outstanding in their meticulous organization, clarity, and crispness of presentation, and beautiful in the development of concepts from the simple to the complex. His love of chemistry shone through his presentations.
Professor Hoffman typically presents his students with challenging problems that, under his elucidation, make the physical principles of chemistry leap into clear view. His lectures are often dramatic and students look forward to attending them. Letters written by his current and former students emphasize the excitement not just of his classes, but of the whole process of learning chemistry from someone who sees and presents the subject as a hot pursuit of the facts.
A student who switched his major to chemistry after taking a course with Professor Hoffman remembers him describing the experiments that led to the discovery of subatomic particles: "I was so enthralled by the way he brought it to life that I did not take notes or even notice that time was passing." Another student emphasizes the totality of Professor Hoffman's commitment to his students: "I came to Boston University as a foreign graduate student facing lots of language and cultural difficulties. It was Professor Hoffman who helped me to build my confidence both as student and as scientist. During my years at B.U. he taught me everything from speaking and writing English to teaching undergraduate labs and doing my Ph.D. thesis."
Professor Hoffman himself has said: "Because teaching is my life, I want to do it really well." He does more than that: he teaches at the level of sustained and committed excellence which the Metcalf Cup and Prize was created to honor.