1987 Metcalf Cup & Prize
Warren O. Ault, CLA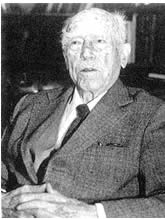 For fifty-two years — full-time from 1913 until 1957 and part-time until 1965 — Professor Warren Ault was the avatar of teaching excellence at Boston University. But his career is best measured not in years but the fourteen generations of Boston University students who were enriched by his learning and his wit. Many of them have in turn become outstanding teachers and scholars, continuing his tradition both at Boston University and throughout the country.
In recent months tributes have poured in from his former students. A member of the class of 1921 wrote that "dedication, method, urbanity, cheerfulness, humor, judgment — all the facets of a distinguished mind and character illuminated [Professor Ault's] expositions of historical eras." Another, who studied with him in 1943, wrote of "that special magic that occurs when the professor and his subject meld into an unforgettable educational experience." Yet another says, "I have always considered that I went to Boston University, and majored in Professor Ault."
Indeed, the Metcalf Cup and Prize and the Metcalf Awards were established precisely to recognize and celebrate the standards of excellence in teaching maintained by Professor Warren Ault for over half a century. Today, shortly after the one-hundredth anniversary of his birth, it is entirely fitting that we honor him with the Metcalf Cup and Prize for excellence in teaching. One of his students, speaking for all, said it best: "We loved you then, and we love and revere you now."
Elie Wiesel, UNI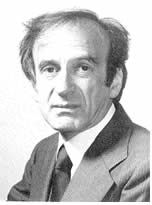 Elie Wiesel is a teacher and witness to the world. For the last decade, as Professor Wiesel, he has personally touched the lives and challenged the minds of hundreds of students at Boston University — and, through his annual series of lectures at the University, has opened his classroom to thousands.
Professor Wiesel brings to his students a profound understanding of the human condition and an enlightened moral vision. In his teaching no less than his writing, he leads them in an exploration of the complexities of human life. He teaches about pain and humility, joy and compassion, and about those enduring qualities of the human spirit which he himself so triumphantly exemplifies. A student of Professor Wiesel says, "He once told us that the most beautiful image in the English language is the 'quest,' and the most beautiful word, 'question.' To quest, he said, we question, and embark on a noble search for knowledge and wisdom."
Another student says of Professor Wiesel's quest: "His examination of a text or topic is never merely a presentation of dry facts, but a quest for insight and understanding, a search for subterranean connections and hidden implications. Willing to confront the starkness of evil and suffering, he yet manages to inspire his students to seek transcendent values."
Elie Wiesel is one of the great teachers of our time. Following the announcement that he had been awarded the Nobel Prize, Professor Wiesel responded to a prolonged ovation from his students by saying that the only true award he could receive would come from them. From his students and for them, we are proud to award Elie Wiesel the 1987 Metcalf Cup and Prize for Excellence in Teaching.