Metcalf Cup and Prize and Metcalf Awards for Excellence in Teaching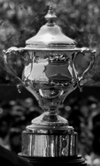 The Metcalf Cup and Prize and Metcalf Awards were established in 1973 by a gift from the late alumnus and Boston University Trustee, Dr. Arthur G. B. Metcalf, to create "a systematic procedure for the review of the quality of teaching at Boston University and the identification and advancement of those members of the faculty who excel as teachers."
The Metcalf Prize and Award winners are selected by the Provost's Faculty Teaching Awards Committee, which consists of the Chair, a committee member from a previous year, previous Metcalf Prize and Award winners, and a previous United Methodist Scholar/Teacher of the Year. The committee also includes two students: one Harold C. Case Scholarship winner and one Dean Elsbeth Melville Scholarship winner.
Over the course of the year, the committee solicits and reviews supporting materials from the candidates:  short essays on their approaches to teaching, course syllabi, student evaluations, graded assignments, samples of student feedback, documents to support learning, other interactive and/or web-based course materials, and letters of recommendation from the candidates' department chairs. The members of the committee visit the classes of the finalists and, in the spring, present their recommendations to the University President. The Cup and Prize and the Awards are presented annually at Commencement.
Students, alumni, staff, and members of the faculty at Boston University are invited to nominate candidates for the Metcalf Awards. Letters of nomination (about one page) should briefly detail how the candidate meets the criteria below. Individuals may nominate only one candidate per year.
Please send letters of nomination to the Associate Provost for Undergraduate Affairs at apundergrad@bu.edu.
The nomination deadline for the 2016 Metcalf Cup and Prize and the Metcalf Awards has now passed. We look forward to receiving your 2017 nominations beginning in the summer of 2016.
Criteria used to select winners of the Metcalf Cup and Prize and the Metcalf Awards:
Excellence in teaching in the context of a research institution. How and to what extent does the nominee engage students in the results and creation of new research, scholarship and creative work (i.e., new discoveries, new ideas, new creative work in the arts, humanities, sciences, social sciences and professions)? To what extent does the nominee excel across the range of teaching opportunities, including effectively mentoring graduate and/or undergraduate research projects?
Challenge and ambition. How and to what extent does the nominee challenge students intellectually?
Engagement. How and to what extent does the nominee engage students in active learning (discussions, interactive lectures, group and individual projects, service or community-based research and learning, presentations, responsibility for the learning of classmates, etc.)?
Thoughtful evaluation of student work. How careful and effective is the nominee in providing feedback aimed at improving student work?
To be eligible, a faculty member must:
Have held a full-time, continuing appointment on the teaching faculty for not less than six semesters;
Be teaching during the Spring semester of the current academic year;
Not be currently under review for promotion or tenure;
Not be on sabbatical leave, or leave of absence;
Not be a previous winner of the Metcalf Cup and Prize or Award.
Lecturers are eligible.
Past Awardees: