Internal Structure
PRLab is mirrored after a real-world PR agency. The executive board of presidents and directors guide the strategic direction of the agency, and the supervisors and account executives work with clients on their public relations campaign. Read on for a description of each role within the agency.
Presidents: The PRLab co-presidents facilitate the overall success of student-client interactions and PRLab as a whole. They both focus overseeing the agency/client relationships and work, addressing client and team-related issues and questions, and driving ongoing client updates and in-class presentations. In addition, they also manage agency operations, administration, special events, marketing and new business, including social and PR for the agency.
Directors: PRLab directors assist with client service and agency operations and serve as a high-level resource for account teams. Directors are responsible for ensuring a group of five-to-eight account teams will be on track to achieve stated objectives.
Account Supervisors: These team leaders function as strategic managers for their executives and clients. Supervisors are responsible for overseeing the work of one or two account teams, providing editing and project tracking.
Account Executives: These PR practitioners work directly with their assigned clients to fulfill their PR needs and objectives, which vary by client, but can include planning/running events, developing and pitching media materials, writing and producing content for Web sites, and initiating social media campaigns.
Faculty Directors: Professor Shanler and Professor Joseph are the "Board Directors" for the agency, providing ongoing guidance and support. They ensure overall client satisfaction, agency profitability, and brand management.
Agency Structure – Organization Chart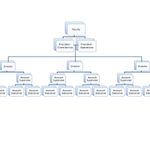 Click Image for Larger View